Fantastic Fest Check-In 2: Shocking, Funny, And Moving Horror
Tony Salvaggio of the Castle of Horror Podcast is on the ground in Austin, reporting on Fantastic Fest and chats with Castle of Horror host Jason on the second batch of new movies that Tony highly recommends. Tony will be attending about 35 films for the Castle of Horror, so we'll be checking back with him for more updates.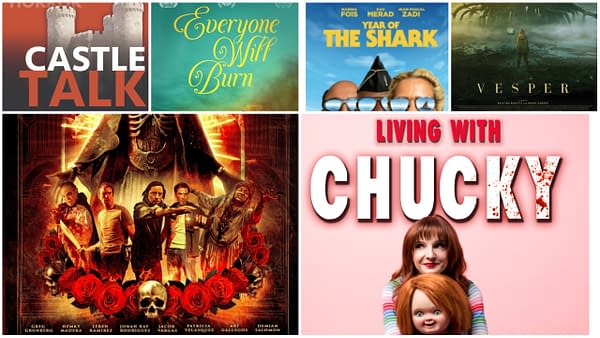 Vesper is an SF film from Belgium and France that Tony likens to Moebius-style classics from Metal Hurlant. Says Annick Mahnert of Fantastic Fest:
In a dark future following the global collapse of the ecosystem, oligarchs live in closed off cities called Citadels and have locked seeds with a genetic code so that they can only produce a single harvest. Vesper, a 13-year-old girl with an innate understanding of plant genetics, is working to unlock the seeds' genetic code when she finds an unconscious woman in the swampy woods.

In their second feature, directors Kristina Buožytė and Bruno Semper (Vanishing Waves) stick to science fiction storytelling, tackling a subject that doesn't seem all that far from present reality. Our crops are already engineered for insect resistance or herbicide tolerance, and although they're currently illegal in many parts of the world, genetically modified single-harvest seeds already exist, promising to reap huge profits for agricultural corporations. It seems we could be just a few legal battles away from Buožytė and Semper's dystopian future.
Check out the trailer for Vesper:
Year of the Shark is a tongue-in-cheek ode to Jaws that turns the shark tale into something of a Covid lockdown allegory. Says Annick Mahnert:
Ludovic & Zoran Boukherma's newest film is a jaw-dropping dark comedy (I actually stole this line, but it was too good not to use) with a fantastic performance by Marina Foïs as Maja Bordenave, a guilt-ridden police officer who needs to finish what she started to preserve her own sanity. The supporting cast deserves a mention as well. I don't know how the Boukhermas find these people, but they are all equally brilliant. Tragic but funny, Year of the Shark is not really about the shark, but rather about the people surrounding the shark. It's a satire about beach town politics, dynamics, and environmental issues.

Check out the trailer for Year of the Shark:

https://www.youtube.com/watch?v=nz7ssftxw4I
Living with Chucky is a loving documentary on the Child's Play series. Says Austin King of the Fest:
Living with Chucky is an ode to a horror franchise and a movie monster icon directed by Kyra Elise Gardner, the daughter of one of Chucky's longtime visual effects supervisors. Having grown up with a Chucky doll in her home since childhood, the filmmaker recounts the behind-the-scenes process of bringing the doll to life as well as the cultural impact of Chucky and his bloodthirsty family on modern horror. Living with Chucky is a delightful peek into the craft of special effects and blood spatters, with delightful interviews from creator Don Mancini, Chucky's voice actor Brad Dourif, the incomparably talented Jennifer Tilly, and filmmaker and one-time murderous doll victim John Waters.
Satanic Hispanics is a horror anthology in English, Spanish, and Nahual that brings a Latinx flavor to the anthology format. Says Annick Mahnert:
Without trying to spoil anything, here's a glimpse of what to expect: Demian Rugna's eerie "Tambien Lo Vi" is about a man who sees something in his house. Ed Sanchez revisits the myth of the vampire in his hilarious "El Vampiro," while Gigi Saul Guerrero takes us on a creepy journey into the Nahuales culture. Last but not least, Alejandro Brugués will make you cry (from laughing too hard) with his "Hammer of Zanzibar.". These four stories are tied together by Mike Mendez's brilliant "Traveler", which will send chills down your spine with its awesome cinematic finale. Don't forget to look for familiar faces in that one (hint hint).
Check out the trailer for Satanic Hispanics.
Finally, Everyone will Burn is a haunting Spanish horror where a grieving mother (Macarena Gomez) meets a strange and powerful young girl, leading to a weird tale of grisly revenge.
Check out the trailer for Everyone will Burn:
Listen to the chat here:
More to come from Fantastic Fest!