The end of the year is upon us and that means looking forward to the new year. There are a lot of big movies coming out and Entertainment Weekly is here to catch you up on all of them. One of them is the first spin-off movie for the Fast and Furious series titled Hobbs and Shaw. While star Dwayne Johnson has been sharing plenty of pictures from the production EW got their hands on an official picture. Johnson was also asked keeping the stunts feeling fresh and interesting.
We've done so much in the Fast & Furious franchise in terms of big-scale action set pieces and fight sequences, the goal is always to best the last one. But it's hard to say, "Oh, we're going to best it," because it's like saying if you had children, which one is your favorite? The main thing that we can do and focus on is how can we evolve, how can we make it different, how can we make it cool, how can we make it badass and entertaining to the fans? So instead of thinking of whatever the biggest explosions are with the biggest vehicles and let's drop them from the moon, this is where finding the perfect director comes in with a very unique point of view and perspective, and someone who understands not only action but understands stylistic action mixed in with story and character.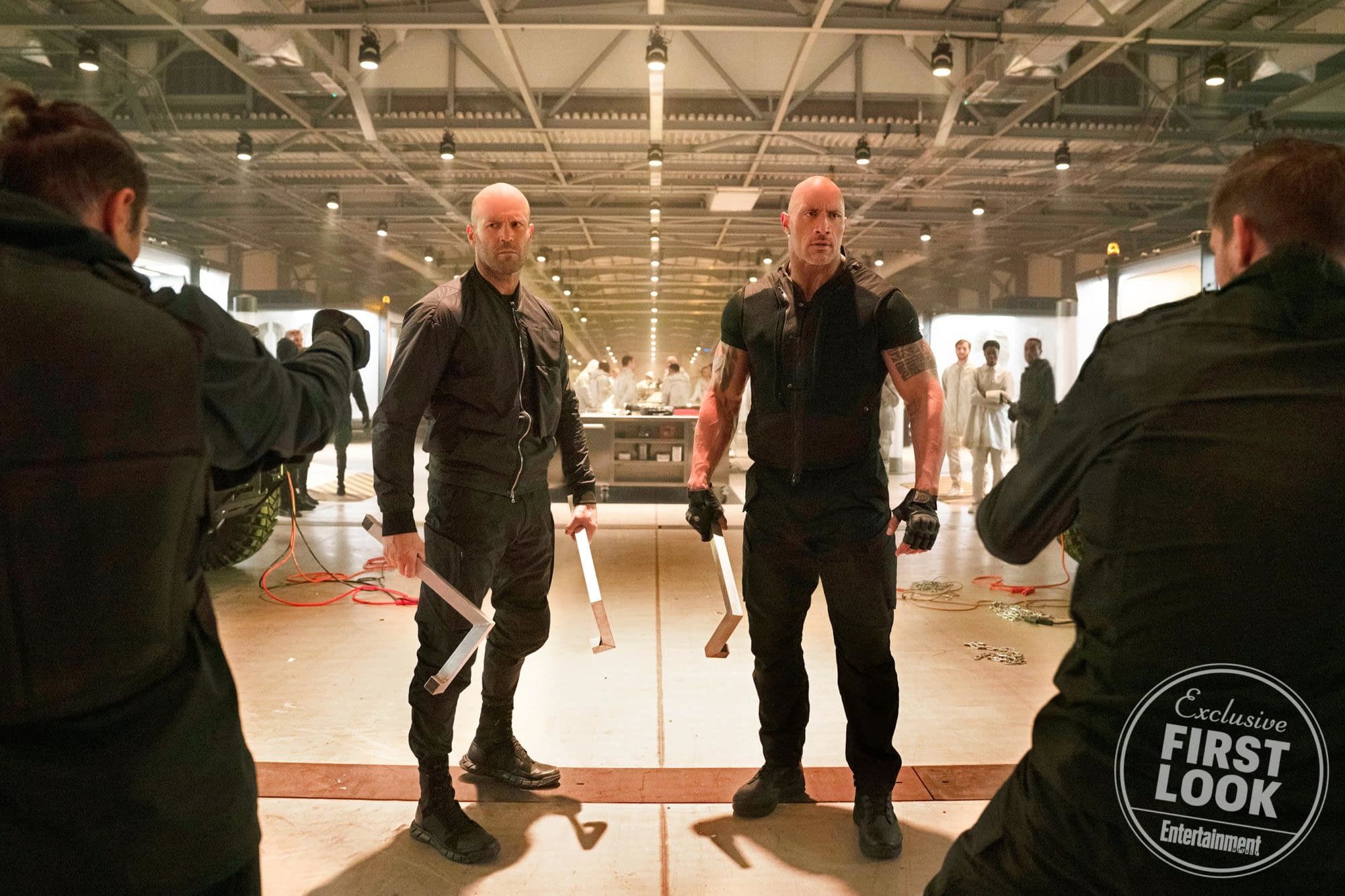 Johnson went on to give a lot of credit to director David Leitch who has made a name for himself in the action genre. Some of the most unique moves to come out this year have come from Leitch and Johnson is happy to bring that sense of style to this new series.
And then enters David Leitch. He just did the new Deadpool and John Wick and Atomic Blonde, so you can see the stylistic approach that David has, and he really just stepped up to the plate and took great ownership of this spin-off. Immediately, our goals were aligned. I met David almost two years ago and we were sitting down and talking about this and his goal was to evolve the franchise. Still have the spirit of Fast & Furious, but how can it be different? And how can we also make something for the fans stylistically that they've never seen, but also really root it in character? He's really been delivering, and if his past movies are an example of what he's been doing, wait until you see this one. And we are hopefully, fingers crossed, creating characters in this movie where they can all at some point in the future spin off. That's the goal.
Johnson was also asked if any other elements or people from the previous movies were going to make their way into this one. Johnson dodged the people part of the question but confirmed that the thing that made the first series so successful is very much part of this new spin-off as well.
If the goal is to deliver something that is evolved, entertaining, and creates some "holy sh‑‑" moments, I think we've delivered as it relates to your question. Let me back up, because I think it's a great question and such an important one. As excited as we all are about shooting this franchise and creating something that is awesome for the fans, it was also imperative — not only to me, but to Jason, David, the entire cast — that we still maintained the core values of what has made Fast & Furious such a beloved franchise. And those core values are a code of honor, a ride-or-die spirit, and above all else, family comes before anything. So I do think we delivered on that. Again, it was very, very important to us. Because this is now four Fast movies that I've done, so I understand the power of that, because it's ingrained in my DNA.
Production for Hobbs and Shaw started production this September, it'll be directed by David Leitch, and it has a release date of July 26th, 2019. The movie is set to star Dwayne Johnson, Jason Statham, Vanessa Kirby, Eiza Gonzalaz, and Idris Elba. The Fast and Furious series has made $5.1 billion in the worldwide box office and has been keeping the lights on at Universal Pictures since 2001.
Enjoyed this article? Share it!