Check Out Some Halloween Poster Concept Art by Bill Sienkiewicz
Halloween is now in theaters, and there is a ton of figures, tiki mugs, and limited edition posters and prints everywhere right now. One of the best artists in the game (and of all-time in my book) Bill Sienkiewicz created an exclusive print for SDCC this past July, which is right here: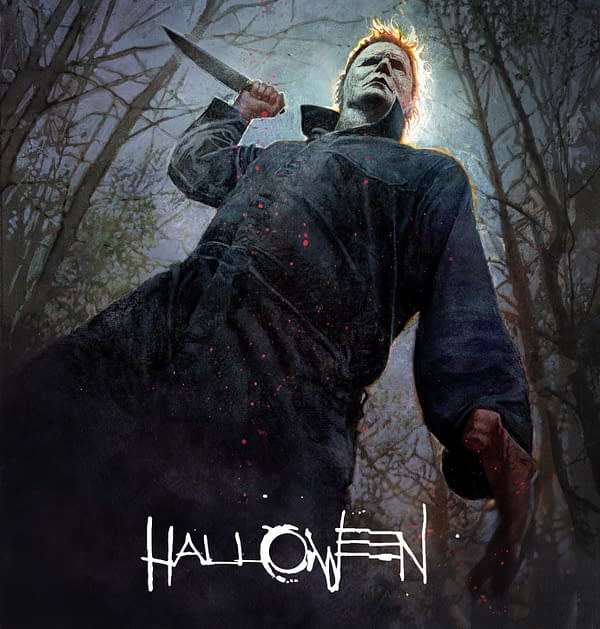 You had to find the Halloween street team to get one (which I did), and he was at the show so I got mine signed. It is now one of my prized possessions.
Bill took to his blog to post some of the other concept designs he had for the poster today on his blog, and I personally think he should release all of them anyway. I would buy them all. Check them out below.
The film takes place 40 years after the events of that fateful Halloween night that Michael came home in 1978. Since then, Michael is now in an asylum. A British film crew decides to do a documentary on his exploits, and wouldn't you know it, he escapes. Getting ahold of his iconic mask, he makes a beeline for Haddonfield to finish the job. What he does not know is that Laurie (the returning Jamie Lee Curtis) has been prepping for this confrontation as well. The two will face off for what may or may not be the last time where it all began.
Halloween, starring Jamie Lee Curtis, Judy Greer, Andi Matichak, Virginia Gardner, Will Patton, Miles Robbins, Jefferson Hall, James Jude Courtney, and Nick Castle as The Shape, directed by David Gordon Green, is now in theaters. Go see it!
Also, if you would like to enter a drawing to receive one of the SDCC posters signed by Bill himself, you can do so by clicking here.The drawling ends on November 1, so act fast!