Ten times Oscar nominated (1 win) composer Hans Zimmer has really come into his own as the great ambassador for film music. That's not to say that other composers haven't been doing the same for a very long time, but he's certainly doing it the most recently.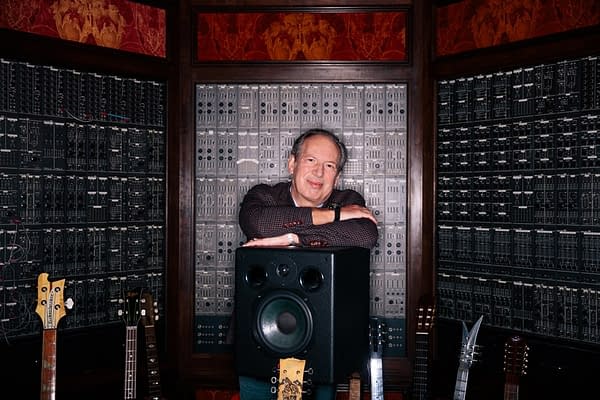 In a roundtable discussion from Spitfire Audio, the British music technology company founded in 2007 by composers Christian Henson and Paul Thomson, Zimmer gathered some of his business buddies with wine and charcuterie to discuss their work.
The group of seven (from left) Ramin Djawadi (Game of Thrones, Pacific Rim) Jacob Shea (Blue Planet II), Henry Jackman (X-Men: First Class, Man in the High Castle), Hans Zimmer (everything, pretty much), Ben Wallfisch (Blade Runner: 2049, IT), Zimmer collaborator Andy Page (Dunkirk, The Martian), and David Fleming (Blue Planet II) talk about every aspect of their current work.
They touch on several subject, like the bane of their existence (temp music), and the use of technology.
"Cool people don't play loud," Zimmer says, talking about studio performances from long-time players. He's full of wisdom and stories, and very much still approaches his chosen life's work as anything but.
"Remember, the operative word in music is play. You play music. All we try to do is get better at being playful. It might not be the worst way to live your life. I keep looking at people who don't play music and I'm saying, "Just because you don't play music doesn't mean you can't go and take a little bit of that onboard. Make it playful. Make it an adventure. Make it stand of the abyss of the blank page and see what happens."
The video is long (almost two hours), but if you're at all interested in scoring, it's something you should watch.
Enjoyed this article? Share it!