We got the news that Ian McShane has joined the Hellboy reboot, but there is something that was buried in the news that we did miss. In an article on IGN it has been revealed that the Hellboy reboot has dropped its original subtitle, Rise of the Blood Queen: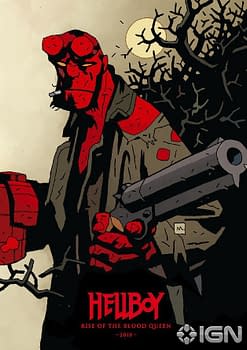 "And while previously billed with the subtitle, Rise of the Blood Queen, which appeared in promo art debuted exclusively online by IGN, the upcoming reboot is, as of now, simply titled Hellboy."
The subtitle was originally reported by IGN and came with a piece of key art that had a 2018 release date on it. IGN seems to have an in with the Hellboy production as they are also reporting that the movie is looking to start shooting in September. If that's the case, then we should expect some serious casting news to come out within the next month or so.
The film only has two leads thus far and still needs to fill out a majority of their cast. It's currently shooting for a 2018 release date, and if they want to meet that, they'll need to start soon.
Hellboy, directed by Neil Marshall, will star David Harbor and Ian McShane. It currently has a 2018 release date.
Enjoyed this article? Share it!