America To Wait A Little Longer Than Everybody Else For Iron Man 3 In IMAX And IMAX 3D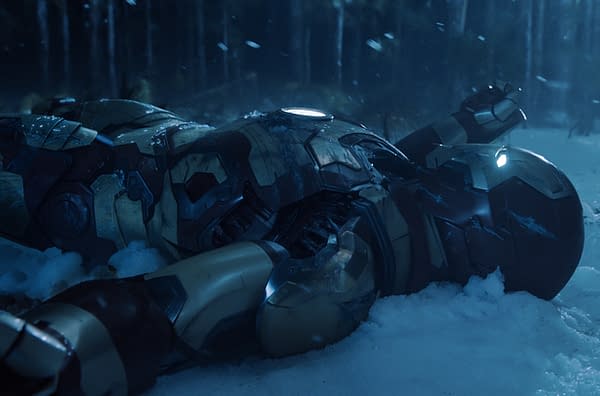 Patrick Dane writes for Bleeding Cool.
In a bit of unsurprising news, Marvel and IMAX have announced that Iron Man 3 will be available in the big format from April 25th Internationally, and May 3rd in the US of A.
The international date is a day earlier than previously expected. It's like Christmas coming early – almost literally, as this is a Shane Black film and he always includes a little bit of "the season."
IMAX president Greg Foster said:
Marvel and IMAX are a perfect one-two punch and the Iron Man franchise has become a global phenomenon that resonates with fans around the world
And it seems he is not lying. This will mark the fourth Marvel film to be remastered in the format, following its predecessor Iron Man 2, as well as Thor and The Avengers.
IMAX has become a huge success for tent pole franchises in recent years, and I am sure everyone under the sun was expecting this move. Marvel have had a fair amount of success with the format, so it is no surprise both companies were looking to pursue the viewing option.
I don't have anything against the format as a concept but I do think that a "remaster" can be done wrong. The dimensions of the screen require the image to be digitally manipulated and this hasn't always been done to perfection. However, with time, effort and a director's consent, it can produce a fairly impressive experience. Just maybe not always the preferable one.
Here is the full press release:
IMAX Corporation, and Marvel Entertainment, a division of The Walt Disney Company (DIS), today announced that Marvel's Iron Man 3™, the latest installment of the film franchise that has grossed more than $1.2 billion at the global box office, will be digitally re-mastered into the immersive IMAX® 3D format and released to IMAX® theatres internationally starting April 25 and domestically on May 3.

Marvel's Iron Man 3 marks the fourth Marvel Entertainment film to be presented in IMAX theatres, following the releases of Iron Man 2 in 2010, Thor in 2011 and Marvel's The Avengers in 2012 – which all delivered record breaking performances in IMAX theatres.

"Marvel and IMAX are a perfect one-two punch and the Iron Man franchise has become a global phenomenon that resonates with fans around the world," said Greg Foster, Chairman and President of IMAX Filmed Entertainment. "We look forward to moviegoers experiencing this highly-anticipated next installment of Tony Stark's latest adventures in IMAX 3D."

"With Iron Man 3 building on the events of Marvel'sThe Avengers, audiences are in for yet another incredible moviegoing experience from Marvel Studios," said Dave Hollis, Executive Vice President of Motion Picture Distribution for The Walt Disney Studios. "We're thrilled to be able to offer that to fans in the larger-than-life action of IMAX 3D."

The IMAX 3D release of Marvel's Iron Man 3 will be digitally re-mastered into the image and sound quality of The IMAX Experience® with proprietary IMAX DMR® (Digital Re-mastering) technology. The crystal-clear images, coupled with IMAX's customized theatre geometry and powerful digital audio, create a unique environment that will make audiences feel as if they are in the movie.