Is the First Walking Dead Movie Secretly Being Drawn Up Right Now? Some Mindless Speculation…
Guignol creator Brett Schwaner writes for Bleeding Cool:
Could a Walking Dead feature film become the highest-grossing horror movie of all-time?
It's the potentially-$800 million zombie elephant in the room, so why isn't anyone talking about it?
With The Walking Dead's Season 6 finale recently aired (don't worry – we'll be avoiding SPOILERS with regards to the controversial cliffhanger ending), and with little yet seen of Season 7, we're taking a look even further down the road, as one of the world's biggest franchises could be on the cusp of getting even bigger.
In the six seasons since its debut, AMC's The Walking Dead has become an all-out pop culture phenomenon, with some calling it the "Star Wars of our times," backed by a rabid fan base, a top-rated 100-episode television run all but secured, over 150 issues of the best-selling comic book series and counting, and untold hordes of merchandise tie-ins that would make even a Lucasfilm executive blush.
An entire generation of fully-indoctrinated Walking Dead fans have been given everything that they could possibly wish for – everything, that is, except for the chance to see their favorite cast of characters on the big screen.
Though Andrew Lincoln and other cast members had previously expressed enthusiasm towards the idea of making the jump to the big screen, it's been quiet on that front for awhile now – perhaps too quiet.
If there were ever a time for a Walking Dead film to be in the works, there is a good chance that the time is now.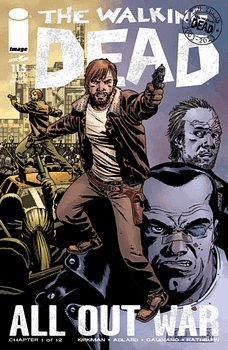 Consider: the Walking Dead TV series is currently about a full season's march away from reaching its adaptation of "All Out War," the Walking Dead comic book's first-ever over-sized 12-issue story arc (which unfolded in issues #115-126) . The story has the definite feel of something that could translate to more than just a couple of hours of basic cable television. It's a relatively-breezy 12-issues, heavy on the types of elaborate action sequences that make for the bread-and-butter of big screen blockbusters, as well as big moments for some of the series' biggest stars (many of whom have the makings of big time movie stars and the aspirations to match, such as Lauren Cohen, who recently appeared in The Boy, and Corey Hawkins, who starred in 2015's hit Straight Outta Compton), to say nothing of beloved-longtime series lead Andrew Lincoln, perhaps already this generation's David Duchovny or Mark Hamill – not that that's a bad spot to be in!), while perhaps seeing a few new stars emerge from the extensive ensemble cast. And, presumably, Norman Reedus would be part of the mix, despite his character Daryl Dixon not appearing in the comic (assuming he survives the show's next season, though one can't imagine the show's creators killing off one of fandom's favorite characters ahead of his possible big screen debut).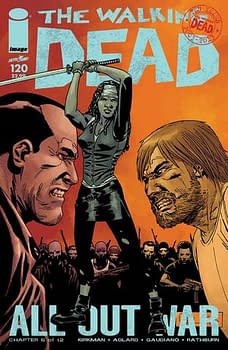 "All Out War"'s publication places it on the back-end of what would like be Walking Dead Season 7, meaning the film would potentially fit between Seasons 7 and 8 of the TV series.
And just how big could the rewards be for the franchise making the first-time jump to the big screen? The Walking Dead's producers have to be looking at World War Z's $200 million domestic box office receipts and $500+ million global haul in 2013 and think to themselves: "We could beat that."
To its credit, World War Z had Brad Pitt, brand awareness resulting from the best-selling book series upon which the film was based, and peak zombie mania going for it. While the Walking Dead lacks the singular star power of Brad Pitt, it does have an iconic cast made up of numerous long-lived and fan-favorite characters. Meanwhile, zombie mania shambles on, and though the Walking Dead's ratings have seen a slight dip, there's no denying that the show is still huge.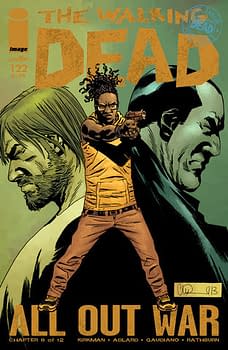 Here's the math: anywhere from 15 to 18 million viewers regularly tune in to watch the Walking Dead in the U.S. It's not hard to imagine that the release of such a film, backed by a voracious marketing onslaught, would become an "event," perhaps the size of Batman v Superman, Deadpool, or the upcoming Civil War. 15 to 18 million tickets on opening weekend would mean anywhere from $150 to $180 million in box office right out of the gate, not accounting for casual movie-goers who will show up to see what the fuss is about, or mum unwittingly wandering into the cinema after Sunday service, etc.
And how would it play outside of North America? Look to Deadpool's nearly $800 million in global ticket sales as an R-rated release without playing in China, a closed market that the Walking Dead would surely have to play without. In the case that $800 is on the high-end, one would think that no less than $600 million is just sitting out there, waiting to be minted.
If you were a big time Hollywood producer, such as the Walking Dead's Gale Anne Hurd is known to be, and you were looking for the next box office cash cow to milk, and you had the Walking Dead in your stable, what would you do? You'd probably laugh maniacally and light your cigars with C-notes.
After all, what is a 2-hour film but perhaps the equivalent of 3 episodes of the show, ramped up with a bigger budget and production time, carved from a series which only airs 16 weeks per year? The X-Files did it between Seasons 5 and 6 of their run without missing a beat, and Season 6 was arguably that show's most acclaimed (although the film itself was less-so). Also look to South Park and The Simpsons as examples of modern franchises that successfully made the jump from television to cinema mid-series, both to substantial acclaim and box office. So why not The Walking Dead?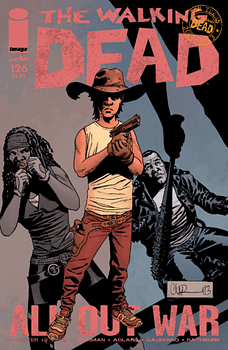 Incidentally, an R-rating (as a Walking Dead film would surely be) would also allow filmmakers to realize an unfiltered version of the villain Negan, another big screen perk that would provide some credible fan-service.
One question left to consider is when? Looking to the calendar, World War Z 2 currently has a tenuous hold on a mid-2017 release date, presumably occupying the "big zombie blockbuster" slot for the summer, but with no director currently in place. Don't be surprised ifThe Walking Dead: All Out War shows up in theaters instead then, or perhaps even closer to the presumed Season 8 premiere in October. For a franchise that's already HUGE, it seems to be the next logical, and perhaps inevitable, step forward.
Cheers!
Brett Schwaner is a New Orleans-based horror author. GUIGNOL Book One is out now.