John Cho Comments on Status of 'Star Trek 4'
We're still waiting on OFFICIAL confirmation from Paramount Pictures or JJ Abrams' Bad Robot team on the reported shelving of Star Trek 4 after that buried report. The bad news is it seems likely to be true, especially when you take into account what nuSulu actor John Cho said on the red carpet just this week.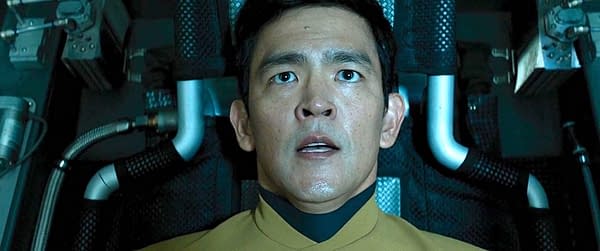 In a small interview snippet posted by journalist Ash Crossan for Entertainment Tonight, Cho commented on the situation:
"It's not happening right now as far as I know, but I just think it will happen. Somebody at some point….we'll all get on the same page. That's my belief, maybe I'm being optimistic. To me, it's just a really significant part of American pop culture, I don't see how it goes away forever."
With so much Star Trek planned to be hitting CBS All Access (and, possibly CBS's non-streaming service), it doesn't seem likely the franchise will be "going away" anytime soon. The film franchise however…only time will tell.
Star Trek: Discovery returns to CBS All Access for season 2 on Thursday, January 17th, 2019.