Jon Stewart may have too much free time. Will Rubin is a 13-year-old Jewish kid from Media, Pennsylvania who decided that the theme of his bar mitzvah would be Jimmy Kimmel Live. Now, I realize that statement is a lot to unpack…why is a 13-year-old that big of a fan of a late night talk show host? Shouldn't he be in bed before the show is on? But putting all that aside, Will's party included a set similar to Jimmy Kimmel's and an opening video borrowing from the show, as well.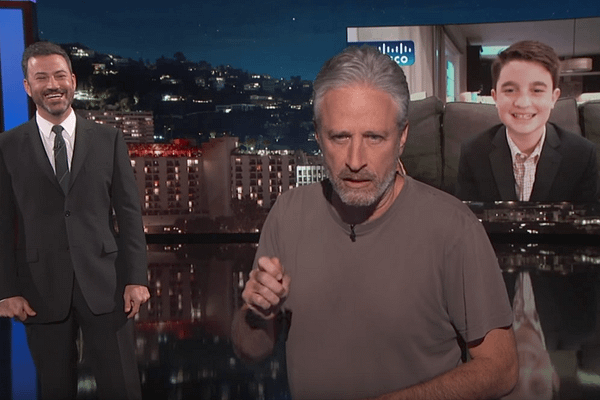 Kimmel, whom the kid invited to the bar mitzvah, recorded a surprise video with a few good jokes in it including a reference to suing and then agreeing to just take half of the money Will's grandparents give him. They also sent an ice sculpture of of Jimmy's cousin Guillermo, which was kind of scary-looking.
Last night, they had Will on via satellite, for an interview. But about halfway through the segment, former Daily Show host Jon Stewart wandered out and took over the interview, trying to find out why Will didn't choose a Jewish talk show host to idolize. Stewart asked how Will could choose a host that isn't circumcised, or as he put it: "Still wearing his hoodie."
The biggest thing to take away from this, besides the idea of a 13-year-old idolizing Kimmel, is that Stewart seems to have way too much time on his hands. He should really find a hobby…maybe something he can do during the evening, like a politically themed nightly show four times a week.
Oh, and Will pulls out the nice moment at the end when he tells Kimmel that instead of giving him the half of the money he got from his grandparents, that he's donating it to the Children's Hospital of L.A., which was the hospital that was instrumental in saving Kimmel's newborn son's life.
Enjoyed this article? Share it!