Jon Stewart's Irresistible is the Summer Movie Balm to Our Politics
Times have changed for Jon Stewart. The former host of The Daily Show, now five years since leaving that job, has kept a mostly low profile. So when he writes, directs, and produces Irresistible, a political satire directly addressing the failures of the US political system, it's worth noticing. What he delivers is unsurprising in its quality– we always knew Stewart could combine humor, wit, and political barbs– but surprising precisely who and what he chooses to lambaste. The combination works to create one of the best and what will be no doubt the most controversial films of 2020.
Steve Carell is Gary Zimmer, a semi-washed up Democratic political consultant who really needs a win after completely blowing the 2020 presidential race. So when he sees a viral video of retired Marine Jack Hastings (Chris Cooper) invoking god and the military as to why his small Wisconsin town of Deelaken should not pass a city ordinance requiring government ID, he sees an opportunity. He recruits Jack to run for mayor with the goal of nationalizing the race, hoping to turn Wisconsin's rural voters just slightly more Democratic in future presidential races. And as the money and national media descends on the race, so does his arch-nemesis/former fling Republican consultant Faith Brewster (Rose Byrne).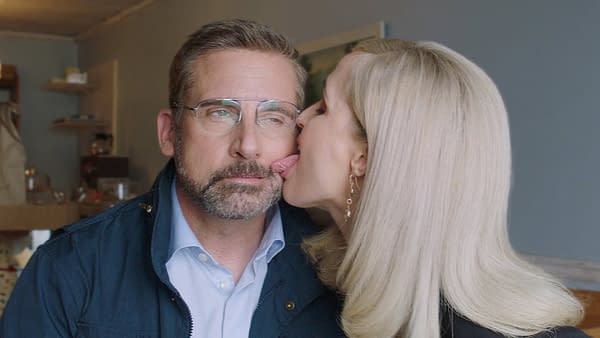 There is also a fantastic supporting cast, including Topher Grace and Natasha Lyonne, as polling and digital experts who work for Zimmer, who bring all the smarmy and charm you'd expect from these two, who are just at the top of their respective games. But the brightest shining star of all of them is Mackenzie Davis, who plays Hastings' daughter. The obvious real brain trust of both the family and the small town, she's constantly schooling the outsiders for their condescension and arrogance. Her final coup de grace in the last act will be what audiences will be left talking about. She is the heart of the movie and does the most with the least in what is, sadly, a somewhat underwritten role.
And it is this relationship that makes the whole movie tick. Irresistible is a film about how the elites in both political parties treat small-town America, and indeed all their constituencies, as a cog in a machine that is really all about the corrupting and corrosive influence of money in our political system. And Jon Stewart, while not typically thought of as a great director, shows his ability to get amazing performances in even smaller roles.
As our illustrious founder Rich pointed out to me, Irresistible comes off as a sort of second-rate Ianucci satire because it's not near as biting as In the Loop or Veep. He's absolutely right because Jon Stewart is not Armando Iannucci. While Iannucci keys in on the banality and pettiness of human politicians and flacks, Stewart is out to indict a system of corruption and influence-peddling rather than just the people inhabiting it.
In a pivotal scene, Carell brings Cooper to a swanky Manhattan cocktail party thrown by a hedge fund manager to raise money for his campaign. When the creme de la creme of the Upper West Side's 1% ask about what's wrong with Deerlaken, he replies that "this is"– the money chase. He has to come to rich people to beg for campaign cash so he can try to win an election to fix his struggling city. Of course, this only makes these limousine liberals salivate even more and open their wallets further in an attempt to assuage their progressive guilt.
Stewart points out the ridiculousness of our system even further, showing that the "independent" SuperPACs are anything but, sitting literally just one cubicle away from the "real" campaign. And the truth is? Far too many campaigns are run exactly like this. During the closing credits, Stewart fact-checks himself. He asks former Republican FEC Chair Trevor Potter (who you may remember helped Stephen Colbert set up his SuperPAC) how close to reality what he portrayed was. And Potter certifies that everything you saw could (and therefore likely does) occur.
There's perhaps a more woke version of this movie starring a primarily Black and Latinx cast about a local political race where the local people feel the same way– forgotten by politicians and treated in an extractive manner where every few years a politician comes through asking for votes but never delivering what they need to actually fix what's wrong in the community, instead of spending millions of dollars on SuperPAC ads that could be better, say, fixing a local school or replacing lead pipes for drinking water. As we go into the 2020 election in full swing, it's important to remember this whenever we see an ad and remember that somewhere, some millionaire or billionaire probably wrote a check that paid for that ad, and that they likely expect something in return.
And that's the beauty of Stewart and Irresistible. The whole system is out of order, and so the mendacity and ridiculousness of Byrne. Who goes so deliciously far over the top, and Carell, who has probably never better inhabited a film role, is the sideshow. You finish watching The Thick of It and think, "Those people are dicks." You watch Irresistible and say, "These people are fine and frail and human. The system is dicks." We can change systems. That's hopeful.
Irresistible is available on VOD because watching movies in theaters is also something else we can't have thanks to our politics.