Is Oscar winner Jordan Peele working on a possible Gargoyles project? According to a highly irreverent piece from entertainment newsletter The Ankler and writer Richard Rushfield, he might be. The Ankler suggests that Peele might "walk in and says he wants to do a new version of Gargoyles."
This is in no way an actual report of something that happened, or at the very least, Rushfield is trying really hard to make this 'report' as much of a "what if" as he possibly can without outright saying anything has happened. An example from the newsletter:
"How do you turn down Jordan Peele? Well, you can't. Who wants to be responsible for that decision? So in the absence of a good reason to say no, but prevented by their Big IP box from saying yes, Disney is slow walking the decision. It's hoping, it seems, that they'll run out the clock, he'll sign other deals elsewhere, and the project will just fade away."
Slashfilm goes on to say that Rushfield's thoughts as to why Disney didn't glide on the idea right away was Peele's idea being "too much of a risk". Perhaps the lack of decisiveness is purely a timing issue though, and maybe they'll change their minds as audience reaction to this possibility.
It's happened before — a timely "leak" of possible information of an upcoming project prompts action — much like that Deadpool test footage from a million years ago that eventually became the record-breaking R-rated film we know now.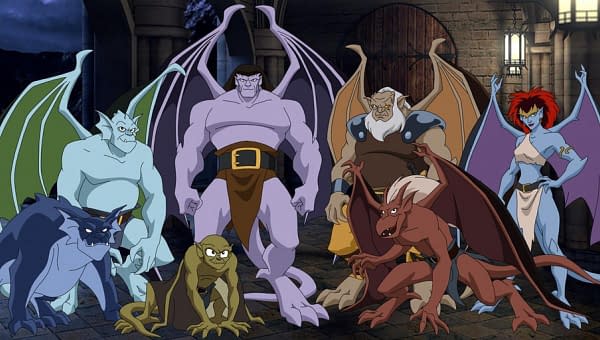 I personally hope Gargoyles is NOT remade or touched, as the '90s Disney animated series remains my personal favorite cartoon ever. The mix of magic and legend with incredible artwork, and the best Star Trek voice cast assembled continue to make it a special tv series which I rewatch at least once a year. (Except for, you know, the lack of a complete series release).
We'll let you know if Peele or Disney responds to this possible thing.
Enjoyed this article? Share it!