Justice Society: World War II – Elysia Rotaru Talks Black Canary
In DC and WB Home Entertainment's newest feature, Justice Society: World War II, circumstances force Barry Allen to run faster than ever, and he is tossed through time into a battle between the Golden Age heroes of the Justice Society and a platoon of Nazis in 1940s Germany. Voicing the newest member of the team, aside from Barry, is Elysia Rotaru (Diary of a Wimpy Kid, Arrow) as Black Canary. Still mastering her "Canary Cry," she doesn't hesitate to stand side by side with the titular heroes as she struggles to understand her feelings for a teammate and faces her own limitations.
Known as Arrow's Taiana Venediktov and a turn as She-Hulk on Marvel's Super Hero Adventures, Elysia is well versed in the superhero genre. Although she describes herself as "not a super comic book nerd, " she leaps seamlessly into her new role as the fishnet-clad heroine from another era. Today, while we wait for the April 27th release date, Rotaru joins Bleeding Cool to share her thoughts on Justice Society World War II and what sets Black Canary apart from other superheroes.
BLEEDING COOL: Black Canary has been around since 1947 and is one of DC's earliest females superheroes. Since then, she has appeared in movies, video games, animation, and on television. How does it feel to put your stamp on such an iconic DC superhero?
ELYSIA ROTARU: I have no words. I'm always smiling about it. I'm so grateful. It's such an honor, honestly. I know that sounds cheesy, and dorky, and overstated, but it is so cool. And just getting to work with the team. The team that I got to work with on this is amazing. I just hope everyone enjoys the work and the performances of everybody, and fingers crossed, more to come. We'll see what happens. I genuinely don't even know how to express myself in language; I just keep smiling.
BC: The action in Justice League: World War II is insane, and every character gets a chance to show off their power in battle, but when you least expect it, the story swings back with some heavy emotional beats. Can you describe your first impressions when you read the script?
ER: You know, when you are reading something, obviously it hits a different chord than when you see it visually up on the screen. I loved all the elements that you just mentioned. I love the depth of each character; they got to showcase who they were. I love the interconnectivity of the ensemble and how they all work and relate to each other. The jokes. The vibes. It is always so much more magical when you get to see it done, right?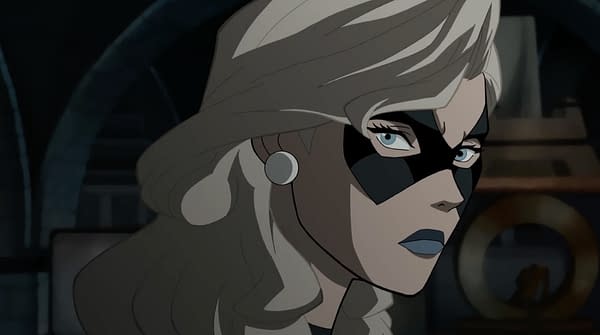 BC: What sets this version of Black Canary apart from previous incarnations?
ER: I think what I saw visually with her when they created her after I came in to set the voice with Wes (Gleason– voice Director) and Butch (Lukic– Supervising Producer) and the team there just seeing how she was dressed was really fun. They kept her, kind of hinting toward that era, for sure, with a little bit of flair and badassery. And where we put her voice, that was a big one.
BC: This version of Black Canary is younger and relatively new to the superhero game. She is a little flirty with Hawkman (Omid Abtahi). Can you describe the relationship between the two heroes?
ER: I think that she really admires and looks up to him. I feel like she has a little bit of a Tomboy edge, but it is still quite a fem fatale. So I think that they complement each other really nicely because he grounds her a lot. It also opens her up to a lot of emotional range that, maybe, wasn't available for her to go through on her own. I don't want to say too much about it. I just feel like their relationship obviously evolves a lot through the story, and it's really beautiful to witness. I think it definitely will set a tone for her for the future, a power she is going to present, herself, to the world in the future.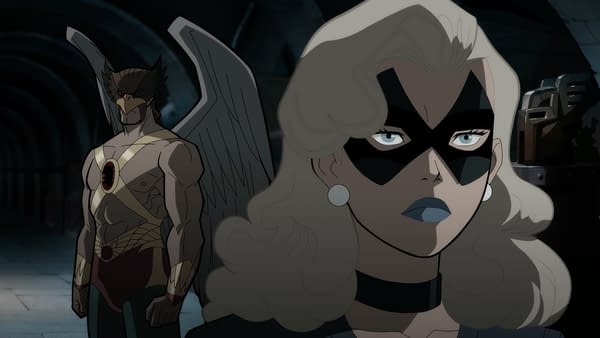 BC: I mentioned the tonal shifts of the story. Is it challenging to go from the light-heartedness at one end of the spectrum to the heavy emotional beats that Black Canary goes through?
ER: It wasn't as difficult because the writing was so well done. They did a great job of creating arcs not only of my character but for all of the characters. That is always the best part of when you get material that you can actually work with, and it doesn't kill your soul to try and push it to where it needs to be because it's there. The writers on this and the directors were so great at bringing that out and supporting choices that I was bringing to the table.
BC: What would you say is at the core of this story?
"Go live a life. Don't miss out on your chances; live your truth. Trust. Know that there is a support system around you. Even if it is just you, if you feel like it's just you at the moment, but there is probably someone else out there who can relate. Go out and be your authentic self. Yolo! It's all you got."
Justice Society World War II stars Stana Katic (Castle, Absentia) as Wonder Woman, Matt Bomer (Doom Patrol, The Boys in the Band) as Barry Allen/The Flash, Elysia Rotaru (Arrow) as Black Canary, Omid Abtahi (American Gods, The Mandalorian) as Hawkman, Chris Diamantopoulos (Silicon Valley, The Three Stooges) as Steve Trevor, Armen Taylor (JoJo's Bizarre Adventure: Golden Wind) as Jay Garrick/The Flash, Liam McIntyre (Spartacus, Justice League Dark: Apokolips War) as Aquaman, and Geoff Arend (Madam Secretary, Batman: Hush) as Charles Halstead/Advisor alongside director Jeff Wamester (Guardians of the Galaxy TV series), co-screenwriters Meghan Fitzmartin (Supernatural, DC Super Hero Girls) and Jeremy Adams (Supernatural, Batman: Soul Of The Dragon), and supervising producer Butch Lukic (Superman: Man of Tomorrow, Constantine: City of Demons).
Produced by Warner Bros. Animation and DC, the feature-length animated Justice Society: World War II will be distributed by Warner Bros. Home Entertainment on Digital starting April 27, 2021, and on 4K Ultra HD Blu-ray Combo Pack and Blu-ray on May 11, 2021.