Kevin Feige Didn't Have Time to Talk About Fantastic Four, X-Men at SDCC Panel
At the end of the Marvel Studios panel at San Diego Comic-Con, Kevin Feige told the crowd which movies he didn't have time to talk about. And interestingly enough, those may have been the ones fans were most looking forward to.
Yes, we did learn that we'll be getting an Eternals film (yawn), a Shang Chi flick (could be good), a Doctor Strange sequel (fine), a Black Widow movie (what is this, 2012?), and a Thor sequel with Jane Foster as Thor (okay, that's pretty damn cool). But what we didn't get was any info on sequels to Black Panther, Captain Marvel, or Guardians of the Galaxy (boo!).
Feige did mention all three at the end, which is nice and all, but doesn't give us anything concrete, other than maybe the idea that Feige needs better time management skills.
Pouring more fuel on the fire of speculation over when the formerly-Fox-owned properties will join the MCU, Feige also said he didn't have time to talk about the Fantastic Four or the X-Men. Maybe if you started the panel on time, Feige?
So yeah, he said the words. But no info. So the situation remains unchanged. The Fantastic Four and X-Men will join the Marvel Cinematic Universe… some day.
You can read the full recap of the panel in Bleeding Cool's now-ended live blog.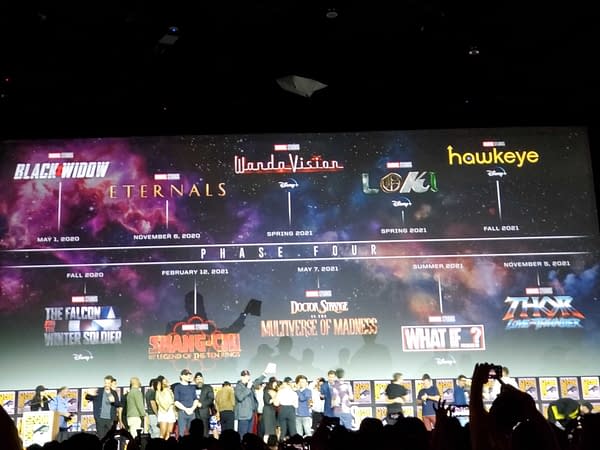 You can check all the Marvel Phase 4 announcements at San Diego Comic-Con 2019's Hall H right here.