Kevin Smith is returning to the director seat for the third time on Supergirl this week. The man who made Clerks, Mallrats and Dogma helmed two episodes in the second season, Supergirl Lives (episode 209) and Distant Sun (episode 217) and is now on set leading the fifth episode of the third season. No title was revealed, but he tweeted out the below image showing that he's working on a script written by by Eric Carrasco and Cindy Lichtman.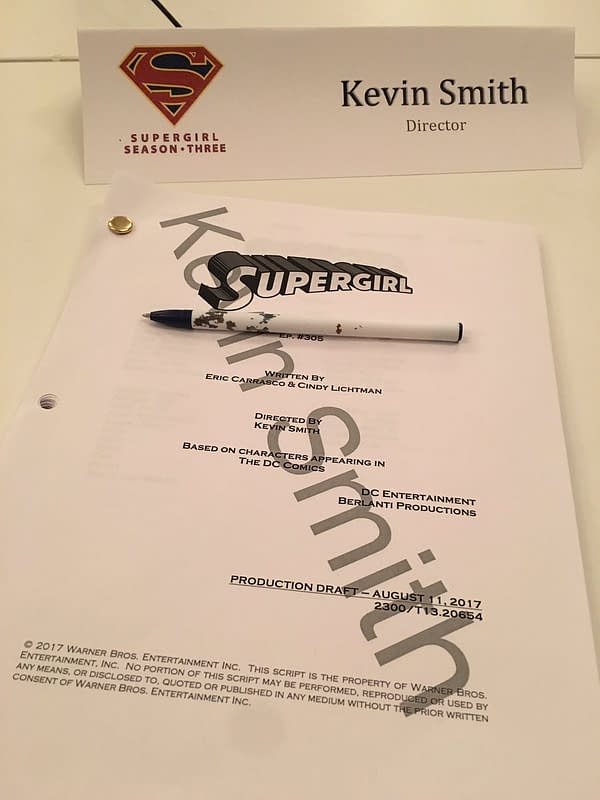 Smith has also directed two episodes of The Flash – Runaway Dinosaur (episode 221) and Killer Frost (episode 307). He hasn't worked on Arrow or DC's Legends of Tomorrow yet, but while interviewing the cast of Arrow for IMDB at Comic-Con, he was invited to come direct and episode. He has also talked about wanting to write an episode of Arrow introducing Onomatopoeia, a villain he created in the Green Arrow comics. The episodes Smith have directed have been very well received by fans and have tended to be some of the more important episodes including Barry Allen's first trip into the Speed Force where he got to see his mother in a sense. It was a very emotional episode that also set up Flashpoint, which would be the driving force of season three.
Back in #Vancouver for another adventure in National City with @TheCWSupergirl! Third time's the charm… pic.twitter.com/9UNP1og4Pj

— KevinSmith (@ThatKevinSmith) August 14, 2017
Enjoyed this article? Share it!