'Knives Out': Chris Evans Promo Sweaters Are a Real, Great Idea
Knives Out is a surprise hit of the holiday movie season. In the film, Captain America himself Chris Evans gets to show a few sides of him we haven't seen in awhile (Don't worry, no spoilers here). To those who have seen the film however, one part in particular has people swooning from coast to coast: his sweater. Yes, the scenes with Evans in an oversized white sweater has sent the internet ablaze, and Lionsgate is steering into the conversation. Last week, they changed the Knives Out Twitter handle to "Chris Evans' Sweater Stan Account" and now will be sending out promo sweaters to press and fans featuring Evans wearing the white sweater and the phase "Eat Shit" under the photo. It is all a bit of sweater inception if you will.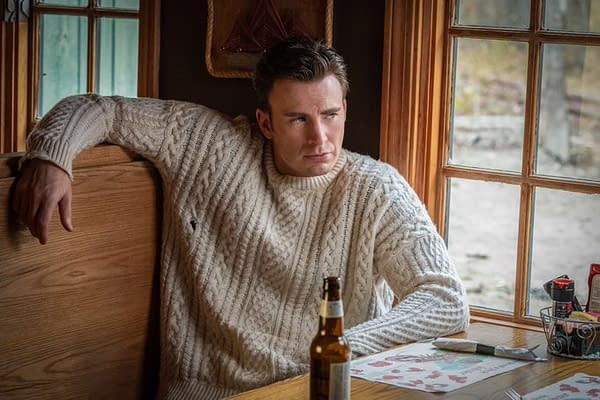 "We understand there are many factors to a film's success, [including] great social listening. Knives Out is not only spectacular in its writing and ensemble, the plot is also relevant with very relatable characters (and, apparently, wardrobe). We want our audience to feel heard and be part of the Knives Out family in a way that's meaningful to them, so when the world asks to be swaddled by Chris, we deliver! Truly, what better way to spend the holiday than in the arms of Chris Evans?"
Whatever gets as many people seeing this excellent film I am all for it. Not only is it a lock for most year-end lists (including mine, spoiler alert), but it was nominated for three Golden Globes Monday, including Best Picture- Musical or Comedy.
Our only question now is: is it too late to get one? I may have missed our shot…I promise that if I am deemed worthy to wear it everyday for a month and carry myself with Big Donut Energy…
First seen on The Hollywood Reporter