As you all know by now, I'm from Baltimore. My whole life I've had a number of things thrown in my face about living here — the crime rate, how dangerous the city is, how shitty Baltimore looks, all that jazz. But let me tell you: I love it here. Baltimore has a unique charm you can't possibly grasp if you don't live here. Even people from other parts of Maryland (I'm looking at you, Annapolis) don't really get it. Yet, despite the crime and the ever-climbing homicide numbers, there's still some good — and remarkable — things about Baltimore.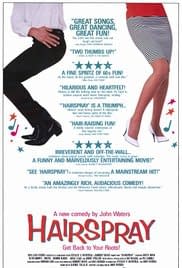 John Waters is such a thing. The God of Filth is one of my personal favorites, and it has always painted Baltimore in a beautiful, unique light. I've enjoyed most of his films and features over the years, but none have hit me as hard as 1988's Hairspray. Set in 1962 Baltimore, the story follows young Tracy Turnblad (Ricki Lake) as she navigates her dream of becoming a star, while taking a stand for causes she believes in — such as integration in Baltimore.
The movie is pure camp, but I love it. Tracy is a fun, realistic character many of us can relate to. Her mother, played by Divine, is one of the highlights of the film. Unwilling to go outside (and change), her mind is changed when she sees the passion her daughter has for helping those who need it. Tracy's enemy, Amber Von Tussle (Colleen Fitzpatrick/Vitamin C), is the perfect pompous brat who's egged on by her even brattier mother, Velma Von Tussle (Debbie Harry). Sonny Bono and Jerry Stiller also appear in this film as the fathers to Amber and Tracy respectively, and their characters couldn't be further apart. This is really a good guy vs. bad guy film, with no one falling in the middle.
Events and places in the film are based on things and places that happened in Baltimore. The Corny Collins show is based on The Buddy Deane Show, which was a popular dance party program in Baltimore during the 1950s and 1960s. The show was even the most popular local show for some time. My parents remember the show fondly, though they do recall the show not being integrated — something that is fought for in the movie. Little to no footage remains of The Buddy Deane Show.
The original film was a moderate success in theaters, but it found its cult footing in subsequent VHS releases. In 2002, Hairspray was adapted as a Broadway musical.
Admittedly, I've never seen it performed on stage. I know it holds a spot in many people's hearts around town, and I'm sure it's amazing. The musical opened originally for a trial run in Seattle (because God forbid you show it in the place where the entire story takes place), and based on its success, went to Broadway. The show is still running today, and has done a number of international tours. The musical has even won eight Tony Awards, including best musical.
In 2007, another Hairspray movie came out. This time based on the musical, the 2007 Hairspray combines the best of both worlds.
Going in, I was unsure of this adaptation. I liked the cast a great deal, but John Travolta's "Baltimore" accent is obnoxious. Yes, Divine had the accent. Anyone who's playing Edna should attempt to have the Baltimore accent, but that doesn't make it any less awful. I vividly recall Travolta talking to Oprah (who lived and worked here for some time) about the accent, and both of them proceeded to talk like they were both on Eastern Ave ready to go buy a chicken box and steamed crabs. It should also be noted that Travolta received a lot of backlash for his portrayal of Edna. The Washington Blade — a local LBGTQ+ newspaper — called for a boycott of the film due to Travolta's ties with Scientology.
Despite that, the movie is great. It dropped all of the trash and crudeness of the original film, but it still retains its heart. The soundtrack is dazzling, and "Good Morning Baltimore" is my alarm in the morning. The costumes are stylish and on point, and the cast is great. Zac Efron, Michelle Pfeiffer, and Queen Latifah were all excellent in their roles. The entire cast is terrific and brings the colorful cast of characters to life. Even Ricki Lake makes an appearance in this film. However, none of the movie was filmed in Baltimore — it was filmed in Toronto.
Finally, we have Hairspray Live!, which aired during December of 2016 on NBC.
Again, I was apprehensive about this; but to be short, I loved it. This made for TV musical was a fun, joyous take on the original 2002 show. Harvey Firestein played Edna this go around, and his performance was fairly close to Divine's. Maddie Baillio played the young heroine Tracy, and while she may have been over shadowed by the likes of Kristin Chenoweth, Ariana Grande, and Jennifer Hudson, she holds her own through the show.
If you watched it live, you no doubt saw clips from Cafe Hon in Baltimore. My friends and I tried going there to watch the show, but needless to say the bar (and restaurant) were filled to the brim. Lots of bars in the area had viewing parties that night; it was great. The original Tracy, Ricki Lake, and the first broadway Tracy, Marissa Jaret Winokur, even appear in the film. Lake has appeared in almost every version of Hairspray that has come out, cementing the fact that she is a legend in her own right — or at least to me she is.
There was going to be a sequel to the 2007 movie — Hairspray: White Lipstick — but it never came to be. White Lipstick was the original title Waters was using while writing Hairspray, so it would have been neat to see that used.
As I said earlier, I love Hairspray. It shows real-world conflicts and how Baltimore reacted to them. By all means, Baltimore has (and still has) its share of shit. But when most people associate your city with The Wire, it's nice to have something different.