Legendary Entertainment Nabs Dark Horse's Black Hammer for Film, TV
It would appear that Dark Horses' "Black Hammer" comics by writer [user_id] has been picked up by Legendary Entertainment for development for film and possible tv projects.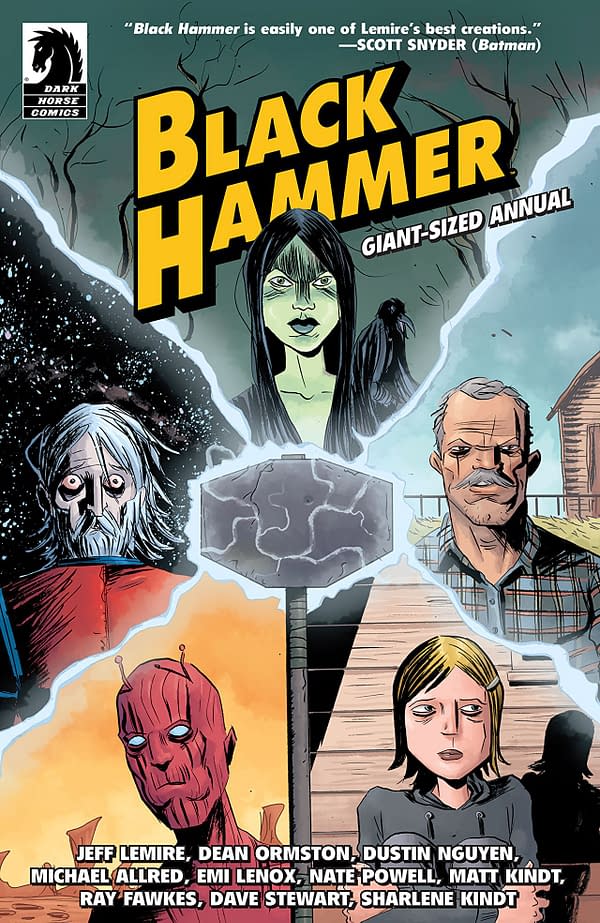 Black Hammer, first published in 2016, won the 2017 Eisner for best new comic and best lettering, as well as nominations for best writer, best continuing series, best inking team, and best coloring.
President of Legendary Television Studios Nick Pepper spoke to the New York Times about the optioning of the property, saying:
"With our development team, one of our big initiatives was to bring in a superhero universe. We were lucky enough that this was available. The way he mapped out the universe, and all the time periods, for me, it feels like something very special there."
Lemire says that "Black Hammer is my love letter to superhero comic." And as an indie comic, gives him a "chance to explore stories that he might not have been able to do with flagship characters, who are often weighed down by years of storytelling or merchandising concerns".
Lemire will also be involved in the creation of the adaptations, saying:
"The more projects I have, the more creative I become. With Black Hammer, I'm at least a year or two ahead of being published. It doesn't even feel like work for me. It's what I would be doing anyway. The more I can do, the more I'll do."
We'll let you know when we hear a timeline for this property.