Legends Of Tomorrow Season 3: Ray Palmer Knows His Poop
After the third season premiere, the Legends of Tomorrow have a new mission: find and return the thousands of anachronisms they helped caused (and by helped, I mean it was all on them) — and do it before the Time Bureau does. The team heads to the past to find one that is tied to the traveling circus of one P.T. Barnum (Billy Zane), the creator of show biz.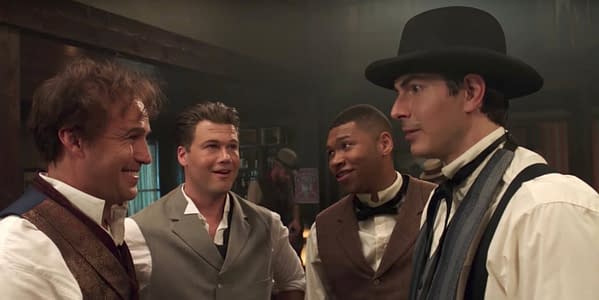 In the scene below, Barnum is working up the crowd as Sara (Caity Lotz), Rory (Dominic Purcell), and Martin (Victor Garber) watch. Meanwhile, Ray (Brandon Routh), Jax (Franz Drameh), and Nate (Nick Zano) sneak around the back to fin the anachronism.
They find a strong smell and we learn that not only was Ray once an Eagle Scout (of course he was), and he can identify 175 different animals by their feces. How is this man still single? Now, in another trailer we see that what's causing that particular pail of poop (alliteration is my friend) is one prehistoric feline.
Other things to watch out for in tonight's episode is the live-action appearance of B'wana Beast and Rory's reaction to the circus — seems he might have coulrophobia (fear of clowns). I suggest the team stay away from any showings of It.
DC's Legends of Tomorrow airs tonight at 9 p.m. ET on the CW.
https://youtu.be/fq8rG3fb078