This article contains spoilers for the DC's Legends of Tomorrow season 3 finale – 'The Good, the Bad and the Cuddly'.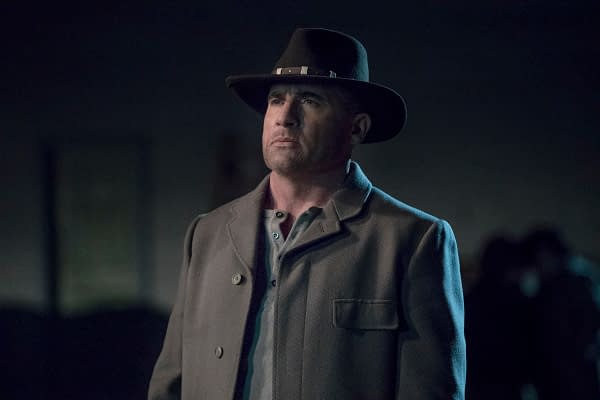 This may be one of the finest season finales ever crafted. We pick up right at the end of last episode as Mallus is free and the team tries to use the totems against him. But it doesn't work, so Sara (Caity Lotz) tells Wally (Keiynan Lonsdale) to distract Mallus while they retreat. She calls Rip (Arthur Darvill) for pickup, but he has a plan to buy them some time. He pulls the time drive from the Waverider and says goodbye to Gideon (Amy Louise Pemberton). The Legends get on board and re-route the time drive from the jump-ship. Sara pleads with Rip not to do it, but he says he would very much like to see his wife and son again. They escape as the time drive blows up, slowing Mallus down and possibly killing Rip… I mean, it is a time travel show, so you really never know.
Sara thinks they need to locate the right people to use the totems, she and figures the best place to hide out while coming up with a plan is one of the few blind spots in time: Salvation, North Dakota. Sara and the others head for town except Nate (Nick Zano) and Ray (Brandon Routh). Ray has a plan to save Nora (Courtney Ford), and it involves Damien Darhk (Neal McDonough)… and the jump-ship. He has to deck Nate to make it happen.
Meanwhile, the team starts drinking in town when they run into their old friend and now sheriff, Jonah Hex (Johnathon Schaech). Then there is a ruckus outside and we see that more familiar faces have shown up in Blackbeard (Johnathan Cake), Freydis Eriksdottir (Katia Winter) and Julius Caesar (Simon Merrells)… each with an army behind them. They are controlled by Mallus and give the Legends until high noon to turn over that totems. Amaya (Maisie Richardson-Sellers) and Nate go on a vision quest to see how the original totem bearers tried to defeat Mallus. Nate once again drinks too much of the tea and gets stoned. Zari (Tala Ashe) sends out a beacon to anyone who might come to help them.
Damien and Ray go back in time to just before Nora becomes Mallus and Damien uses Ray's gun on her, making her non-viable for Mallus, so he moves into Damien instead — which was part of the plan. Ray runs off with Nora, getting her back to the jump-ship and away to safety. The team tries to do with Amaya saw in her vision and create a warrior of light to fight Mallus… but what they create is a hideous, malformed creature that Mick (Dominic Purcell) kills with his flamethrower. With Ray gone, Wally uses the water totem in this. With it a failure, they return to the saloon where Sara insists they need to get other people, but Amaya is certain this is the group — they just need to believe. And yes, if you hadn't figured it out, creating the light creature is very similar to Captain Planet… or as Nate calls it, Voltron.
Ray and Nora return, letting them know that Damien is now Mallus. Then Ava (Jes Macallan) walks in through a portal along with Jax (Franz Drameh), Kuasa (Tracy Ifeachor), who know shares the Vixen totem with her sister after their village was saved, and Helen of Troy (Bar Paly), who is now a trained Amazon warrior. This Jax has been away from the team for five years, is married and has a kid now.
The Legends and friends take on the combined army of pirates — Romans and vikings — and seem to do very well. They look like they've won when Mallus arrives. The rest of the team distracts while the six totem bearers try again to form the warrior of light… and while doing so, Nate pulls a Ray Stantz and thinks of the purest thing he could — and once the others see the shape start to form, they can't help but to think of that shape… and the warrior of light forms into a giant version of Beebo.
We are then treated to the reason why CGI was created: to gift us the final battle between Beebo and Mallus. Seeing Beebo pull off some martial arts moves is classic, but the almost-wrestling move ending that crescendoes into a heart-shaped cloud of blue fur and stuffing is perfect. The Legends hug it out, which makes Mick want to run away, and then the Time Bureau comes in to mind wipe and clean up the mess.
Freydis once again believes Beebo is the one true god. Ray gives Nora the transportation stone her dad used so she might get a fresh start. Ava promises to see Sara again soon. Jax heads home to his family. Jonah says goodbye to Zari by giving her his hat, and yes, there seems to be a spark between the two. The Time Bureau is left to deal with the final anachronisms. Amaya decides its time for her to return to her people and has Nate give her a lift home. She doesn't let him mind wipe her though, wanting to keep the memories of him with her since she can't be with him.
The team then goes where they were trying to go last year, Aruba. While there, Gary (Adam Tsekhman) shows up dressed like and with John Constantine (Matt Ryan). Constantine asks whose "blood idea" was it to open the portal for Mallus, as a lot of other creatures came through too. And he drops the severed head of a dragon on the sand. And that is our lead into season 4 as Constantine joins the team as the Legends become Demon Hunters.
The season was silly, action-packed, brilliant, and fun. The writers have found the balance between humor and seriousness that works like no other show I've ever seen. In the same season the dealt with the death of Martin Stein (Victor Garber), having Grodd attack a former president, and a final climactic battle between a winged demon and a giant stuffed toy. There is nothing else on TV like it… and I can't wait for season 4.
Enjoyed this article? Share it!