Linda Hamilton will forever be a name mentioned when talking about the small but impactful history of women in science fiction films. Sarah Conor of the Terminator franchise is an icon, and the woman who brought her to life even more so. Imagine our absolute delight when James Cameron announced that she'd be returning for the 6th installment, Terminator: Dark Fate.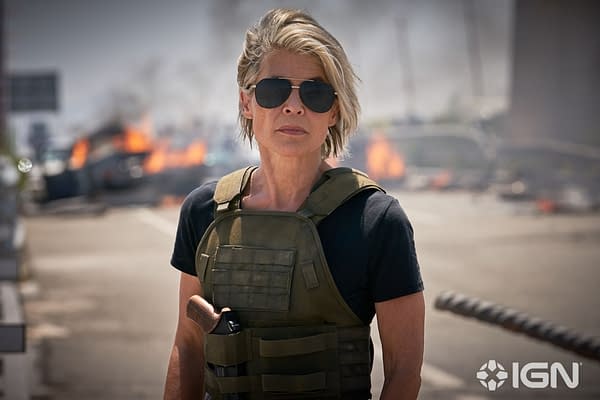 "I didn't want it to look like a shameless money-grab, I wanted the script and the story where going to be worthy of carrying on the tale," Hamilton told Variety on the red carpet during CinemaCon in Las Vegas.
She continues, saying the story is what eventually pulled her back in.
"The script wasn't finished, or really even started, but I thought it would be really interesting with all those years in between, so many different ways we could enrich the character and the character's experience, piled on top, and that it might be a nice time to return."
You can see Variety's red carpet chat with the action legend below:
Linda Hamilton says she was initially reluctant to return to the "Terminator" franchise (Watch) #CinemaCon https://t.co/PxLsB3JWDT pic.twitter.com/GRRA2L9jnY

— Variety (@Variety) April 4, 2019
"Linda Hamilton (Sarah Connor) and Arnold Schwarzenegger (T-800) return in their iconic roles in Terminator: Dark Fate, directed by Tim Miller (Deadpool) and produced by visionary filmmaker James Cameron and David Ellison. Following the events of Terminator 2: Judgment Day, Terminator: Dark Fate also stars Mackenzie Davis, Natalia Reyes, Gabriel Luna, and Diego Boneta."
Tim Miller (Deadpool) is directing, and JunkieXL (Mad Max: Fury Road) will be doing the score!
Expect to see Terminator: Dark Fate in theaters on November 1st, 2019.
Enjoyed this article? Share it!