80's cult classic Little Monsters is coming to Blu-ray. The comedy film starring Howie Mandel and Fred Savage was a part of many a childhood and introduced many a kid to the world of horror. I know I got my start with this film, and I am very excited to add it to my shelf. Special features will include new commentaries, new interviews with the cast and crew of the film, including archive interviews nobody has seen, and behind the scenes featurettes. Lionsgate has hit a home run with these Vestron Video releases so far, and Little Monsters looks to keep that momentum going. Man, what a day for Blu-ray announcements, huh? You can see the cover for this release below and look for it on September 15th.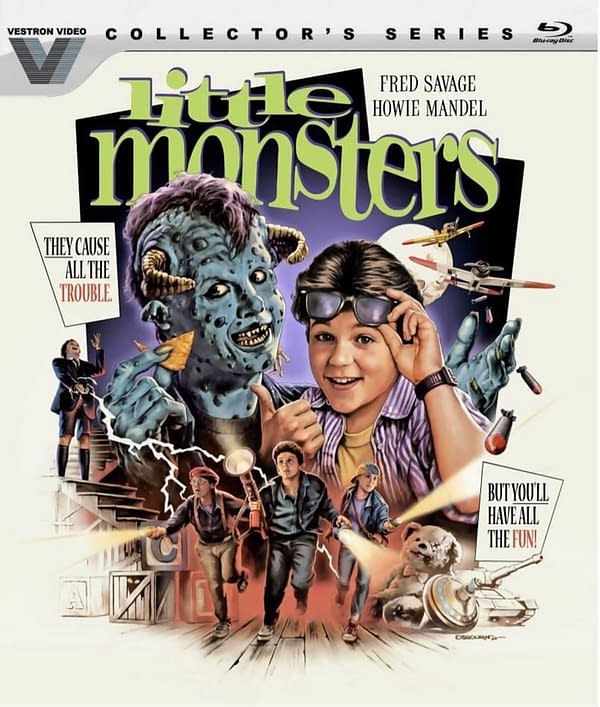 Little Monsters Blu-ray Details
"Brian (Fred Savage) isn't scared of the monster living under the bed. On the contrary, when he gets to know the wild-eyed boogeyman, Maurice (Howie Mandel), the pair become fast friends. During the night, Maurice takes his young charge into the netherworld of monsters, where they have a great time making mischief in the lives of sleeping children. But Brian's opinion of Maurice and his freewheeling lifestyle changes when he discovers that he himself is turning into a monster."
NEW Audio Commentary with Jarret Gahan, Editor-in-Chief of CultofMonster.com
NEW Isolated Score Selections and Audio Interview with Composer David Newman
NEW "Call Him Maurice" – An Interview with Actor Howie Mandel
NEW "Beneath the Bed" – An Interview with Producer Andrew Licht
NEW "Monsters Big & Small" – An Interview with Special Makeup Effects Creator Robert Short
NEW Vintage Interviews with Actors Fred Savage, Ben Savage, Special Makeup Effects Creator Robert Short, and Director Richard Alan Greenberg
Behind-the-Scenes Footage
"Making Maurice" – Vintage Footage of Howie Mandel's Makeup Transformation
Vintage EPK & VHS Promo
Theatrical Trailer
Still Gallery
Enjoyed this article? Share it!