Captain Marvel looms brightly on the horizon of the Marvel Cinematic Universe, and fans of the most powerful hero are chomping at the bit for news.
While this isn't 'news' necessarily, this cover of Super Herois that surfaced on Reddit is making the rounds along with the question: will we be seeing this version of Carol Danvers's uniform in Captain Marvel?
Posted in the r/marvelstudios spoiler thread, this image reveals a Brie Larson style Captain Marvel, with the signature red, blue, and gold suit.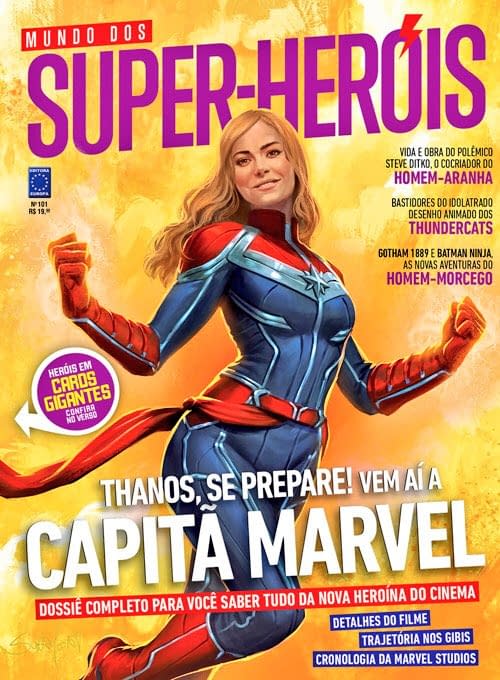 In a recent interview, Captain Marvel screenwriter Geneva Robertson-Dworet (who is also penning the film adaptation of Andy Weir's sophomore novel Artemis) spoke a bit about getting to play in the Marvel Studios sandbox and what she's enjoyed in bringing Carol Danvers to the screen:
"Marvel is a dream experience. It's a very structured environment. You're in this amazing collaborative environment, where you go in and meet with the team in person, a lot. Kevin Feige is there, multiple times a week, meeting with you and talking you through his vision of it, within how this story fits into the universe and what you want to do with the character. It was a total blast!"

We really were bringing so much of what was already in the comics onto the screen, it felt like, in terms of the amazing character who's so funny and sassy and talks back, and she's fearless. I love that Carol Danvers is so funny. She has a blast when she kicks ass. Those comics are amazing! It's an amazing world and sandbox to play in. You're working with incredible creative people, every day. I had a total dream experience."
Captain Marvel will be blasting into theaters March 6th, 2019.
Enjoyed this article? Share it!