Exclusive: Hear Two Tracks From Score To New Film Leave
BC Exclusive: Hear two tracks from new horror film Leave, coming to Shudder tomorrow by composer Jamie Christopherson.
---
Leave is a new horror film starring Alicia von Rittberg, Herman Tømmeraas, Stig R. Amdam, and Maria Alm Norell, directed by Alex Herron from a script penned by Thomas Moldestad. The film is about a woman obsessed with discovering why she was abandoned in a graveyard as an infant with satanic symbols on her blanket. Her journey takes her to Norway, but dark forces are telling her to, well, leave. The film is streaming exclusively on Shudder tomorrow. The score for the film is by composer Jamie Christopherson, and we have the debut of two tracks from the score for you below.
Leave Hits Shudder Tomorrow
"An abandoned infant is found in a cemetery in the United States. The child is wrapped in a blanket with satanic symbols. A Wolf's Cross pendant hangs around her neck. Twenty years later: Hunter is obsessed with finding out why she was abandoned and who her biological parents are. A genetic test, the blanket, and the Wolf's Cross lead her to Norway. Hunter is closing in on the terrifying truth, but visions of a dark figure warn her: LEAVE!"
Some of Jamie's other credits composing include Metal Gear Rising: Revengeance, HBO Max's American Wrestler: The Wizard, Netflix's A California Christmas, and the Hulu true crime series How I Caught My Killer, for which he did the theme music.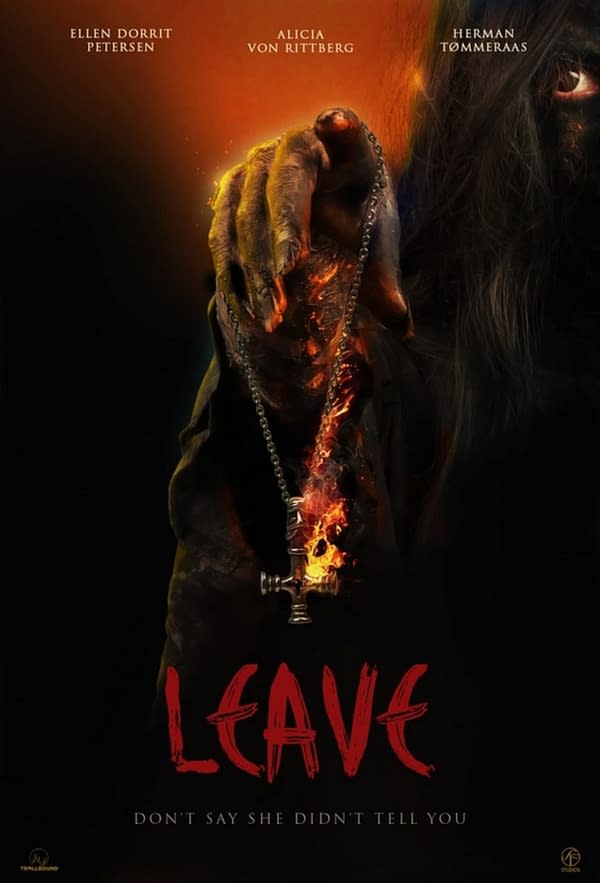 I am a sucker for a good "Where do I come from?" story, especially when it turns out you shouldn't have been looking. So, I am in for this one as well. If Shudder grabbed it, they also saw its potential. They have curated a pretty impressive list of releases for indie horror in the last couple of years, and many a film has had its light shine upon them. We can find out together tomorrow when Leave goes live on the platform.