Marvel Studios 'The Eternals' Begins Production This Summer
Remember when rumors were swirling last year about the possible cosmic direction Marvel Studios would be taking in phase 4, and the probable inclusion of The Eternals? Well, after that whole thing got sorted out (confirmed by Kevin Feige no less), and a director (Chloe Zhao) was named for the project, it looks like we have a production start date on the horizon.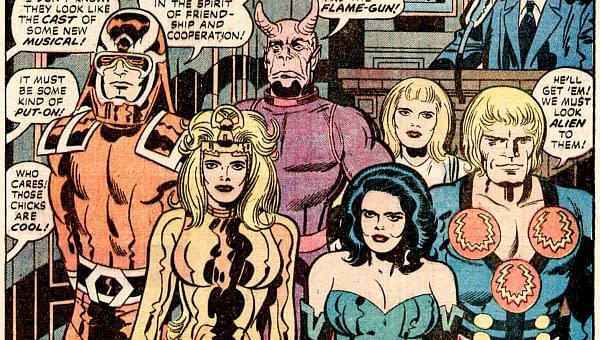 According to Production Weekly, Marvel Studios is looking to start production at there Atlanta-based studios in August of 2019.
There was also a description of the film included with the schedule:
"The story of The Eternals is set millions of years ago when the cosmic beings known as the Celestials genetically experimented on humans, creating the super-powered individuals as well as more villainous off-shoots known as the Deviants. The two groups went on to battle each other throughout history to see which would eventually become the ultimate race. The story involves the love story between Ikaris, a man fueled by cosmic energy, and Sersi, who relishes in moving amongst humans."
We've only seen one MCU Celestial thus far in the 21 films released- Star Lord's father, Ego (played by Kurt Russell in Guardians of the Galaxy Vol 2).
Zhao will be directing The Eternals from a script by Matthew Firpo and Ryan Firpo, and that's about as much as we know, other than Feige's comments that the average movie-goer being unfamiliar with The Eternals being a good thing:
I can tell you very little when it comes to Eternals but what I will say is that your reaction, about not being familiar with Eternals, is perfect. Because most people weren't familiar with Guardians and, believe it or not, there were people unfamiliar with the Avengers or Iron Man. So, for us, it's finding great stories, whether people have heard of them or not, and bringing them to the big screen in as an amazing way as we can.
We'll let you know what else we hear about the upcoming film.