Ben Mendelsohn is having a pretty great run of roles; appearing in the Oscar-winning film Darkest Hour, to a little galactic franchise called Star Wars, a feature film based on a bestselling book directed by Steven Spielberg, and an upcoming installment in the Marvel Cinematic Universe.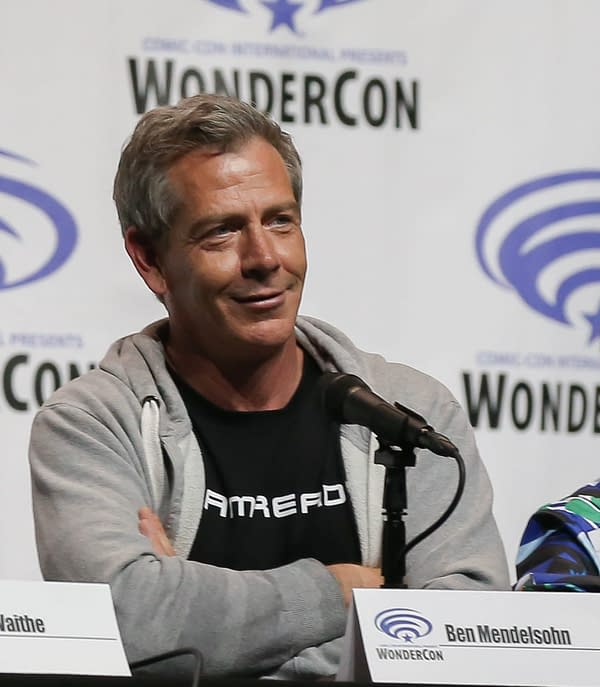 The Aussie played coy when asked about his role in Captain Marvel, namely whether he's a villain or a hero. Considering we often see Ben as the meticulous 'bad guy', it would be nice to see him as something other than a villain. And okay, fine, his dream role is actually Doctor Doom, so I guess I'm okay with him being a baddie in additional films.
Anyhow, Mendelsohn had some choice phrases about his Captain Marvel co-star (even though it really hasn't been confirmed he's IN the movie), Oscar-winning actress Brie Larson. She's playing the title character Carol Danvers (Captain Marvel), and there's actually been pretty good fan reception to her going into the production.
While speaking with Entertainment Tonight on the purple carpet at the Los Angeles premiere of Ready Player One last night, Ben said:
"Brie is absolutely perfect for that role. Why? Because she's a strong, yet sensitive, contemporary female. She is a champion, she's a fantastic actress, and she's a great human. So you can't ask for better for Captain Marvel."
That's pretty delightful, and makes me even more excited to see what directors Anna Boden and Ryan Fleck have in store when Captain Marvel hits theaters on March 9th, 2019.
Enjoyed this article? Share it!