Mondo will be releasing two new posters paying tribute to this past spring's horror smash A Quiet Place. Both are by artist Matt Ryan Tobin, the first showing off the red lights from around the grounds of the property belonging to the family. That one is limited to 275. the other is a variant of that poster, that Mondo has added a glow layer to the poster so the lights change in the dark. That one is limited to only 125 pieces. Both go on sale at a random point today on the Mondo site here. Check them both out below.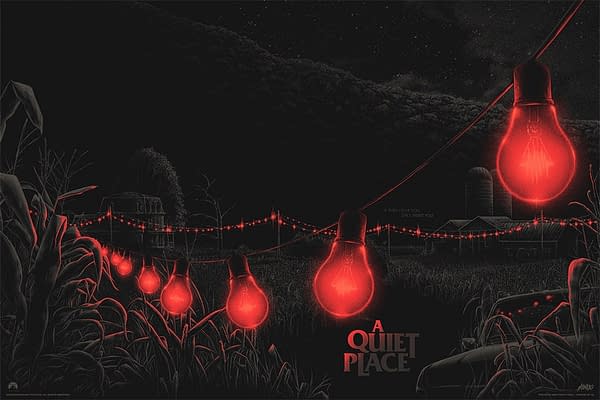 Back in July we released the soundtrack for one of the best horror films of 2018 (a year that has been absolutely amazing for the genre): A QUIET PLACE. Tomorrow, we are proud to release a new poster by the stellar Matt Ryan Tobin for this incredible film.

Directed by John Krasinski, the film follows a family of four who must quietly survive in a world in which monstrous creatures hunt by sound. It often reaches Hitchcock levels of tension and is bolstered by a strong concept that is exceptionally executed. Matt Ryan Tobin did a great job capturing that tension, focusing on the Abbotts' farm and their string of red lights, likely used as a form of silent distress signal. The variant version of the poster will also feature a red glow-in-the-dark layer so you're safe even when the lights go out.

These posters will be available Friday (11/2) at a random time via monodotees.com.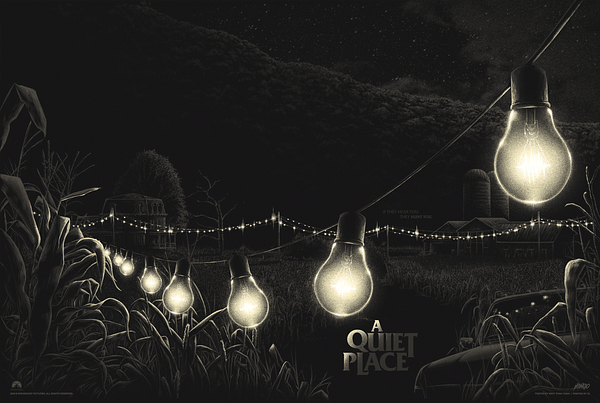 Enjoyed this article? Share it!