Nerd Food: This Cheshire Cat Cake Roll Looks Curiously Delicious!
My, my! What a curiously large smile this cake roll has! If you're craving something wonderful, look no further than this easy-to-make cake roll. Cake rolls are huge in Asia, and the trend is catching on here in America. Grab your spatulas and bowls, and get cooking!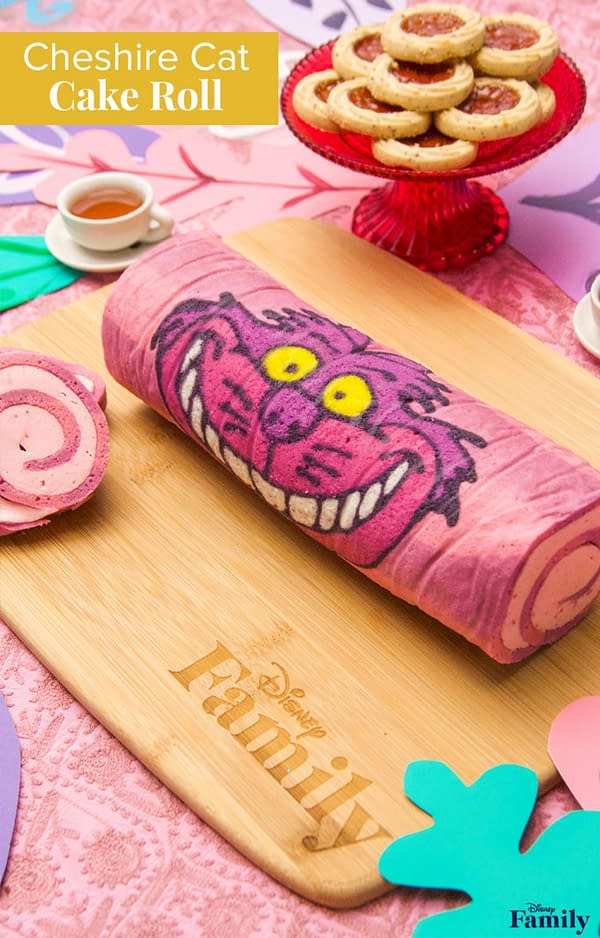 Ingredients
CHESHIRE CAT PATTERN:
5 Oz. powdered sugar
3 Oz. all-purpose flour
4 egg whites
2 1/2 Oz. unsalted butter, melted and cooled
Purple, white, yellow, black, and hot pink gel food coloring
Piping bags
Scissors
Cheshire Cat template
CAKE:
4 eggs, separated
1/2 Cup granulated sugar
1 Tsp cream of tartar
1/4 Cup unsalted butter
2/3 Cup all-purpose flour
Hot pink gel food coloring
FILLING:
1/4 Cup unsalted butter
2 1/2 Cups powdered sugar
1 Tbsp milk
1 Cup strawberries, blended into a puree
Pastry brush
Helpful Tip
All cutting should be done by an adult.
Directions
To prepare the piped pattern: Line a sheet pan with parchment paper. Set aside.

In a small bowl, mix all Cheshire Cat pattern ingredients together to form a smooth batter. Separate batter into 5 bowls, leaving a majority for purple. Add a gel food coloring to each bowl. Then pour batters into piping bags, allow them to come to room temperature, and snip a small tip off the corner.

Download and print template, then place it under parchment paper. Pipe the Cheshire Cat design. Then place on a sheet pan and in the freezer to set, while making cake batter.

To prep the cake: Preheat oven to 400°F. Separate the eggs and place half the sugar in with yolks and the other half of the sugar and cream of tartar in with the egg whites.

Melt butter in microwave or in a small pot on the stove.

Using a whisk attachment, whip egg whites until you reach stiff, glossy peaks. Then transfer egg whites to a bowl and set aside.

Place egg yolks in mixer and whip until they are pale. Fold the egg yolks into the meringue (whites).

Sift half of the flour into the egg mixture and add half of the melted butter. Fold gently. Then add the remaining butter, flour, and hot pink gel food coloring, and fold until there are no more streaks of butter or flour.

Pour batter over the frozen pattern and spread to the edges. Tap the pan on the counter to ensure there are no air bubbles. Then bake in the center of a preheated oven for 7 minutes, until edges are just barely golden.

To prep the frosted filling: Using a stand or hand mixer, beat butter until smooth. Then add powdered sugar and milk, and beat until light and fluffy, about 3 minutes. Finally, add strawberry puree and beat until fully incorporated.

To decorate the cake: Unroll cooled cake and spread frosting all over the cake, 1/2″ from the edges. Roll cake back up making sure to place seam side down on a platter.

Wet a pastry brush with water and brush off the excess powdered sugar on the cake roll.