Netflix's 'Polar' is a Stylized Blend of 'The Professional', 'Smokin' Aces' [Review]
Netflix's latest feature film release, Polar, is an enjoyable carnival ride of violence and mayhem that will directly appeal to fans of the Smokin' Aces and John Wick family of films about assassins/agents who wind up being marked for "retirement" by their friendly local governments/crime bosses and they choose not to go down without a fight. Bonus points when there's some last hit or a delivery package that turns out to be a person that our agent facing life-choices chooses to go on the lam with.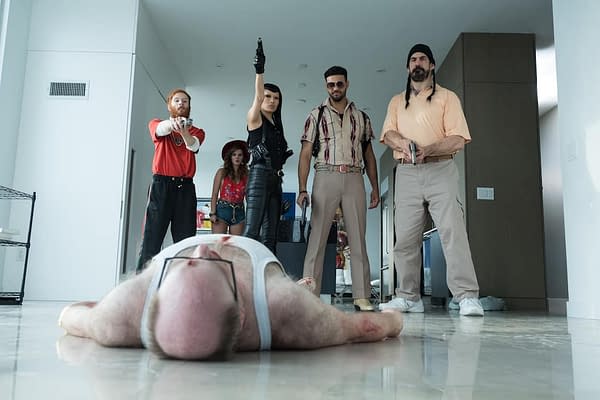 This time around it's Mads Mikkelsen as Duncan Vizla (sporting an eye patch and a nom de guerre of The Black Kaiser) who is preparing to settle into retirement when his old associates, the crime boss Blut (played by Matt Lucas), and ex-flame and underboss Vivian (played by Viking's Katheryn Winnick) decide to retire him into the ground.
The violence is distinct and in-your-face, and the pacing rolls along. You can feel Mads doing his best Mads impersonation by way of quiet introspection that would make Jean Reno's Leon The Professional proud. The film doesn't have a great deal of novelty to it, as most of it is a paint-by-numbers story arc in the genre.
The level of hyper-violence and wounds and the banter between the motley band of top killers sent after the Kaiser is entertaining enough. It never really captures the freshness of the crazy of Smokin' Aces and the lack of use of Winnick's character is a distinct shame; it's like having Gwendoline Christie as Captain Phasma then not really letting her get into the action.
In the end, it's a fine few hours of time, you won't find any new revelations in cinema here, but you will get to the end satisfied. Which really, after watching IO, isn't that what you want?