New Images from Teen Titans Go! To the Movies and Christopher Robin
We have a very busy summer season coming up, which means there are a few movies that you might have forgotten are on the horizon. Two of them are later in the summer, which means they might as well not exist considering we're barely looking more than a month ahead. USA Today did a summer preview, and while the bigger releases got some new quotes to go with them, these next two movies didn't even merit a blurb — we did get new images, though.
The first is Teen Titans Go! To the Movies, which is looking like it could be a sleeper hit of the summer. Thus far it looks like it's going to poke fun at the superhero genre in general, and considering we have six other superhero movies coming out this summer, it's probably something worth a laugh or 10.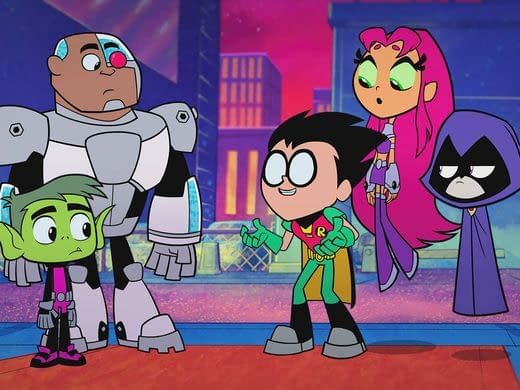 Summary: A villain's maniacal plan for world domination sidetracks five teenage superheroes who dream of Hollywood stardom.
Teen Titans Go! To the Movies, directed by Aaron Horvath and Peter Rida Michail, stars Scott Menville, Tara Strong, Khary Payton, Greg Cipes, Hynden Watch, Kristen Bell, and Will Arnett. It will be released on July 27th.
Next we have Christopher Robin, which is still here to make everyone love bears again — even if they did see Annihilation. Despite bear-related nightmares, Christopher Robin is a movie we haven't seen that much of — though from the teaser trailer it looks like the film is going to hit all of us right in the feels.
This new shot gives us sideways look at Winnie, but this movie is going to live and die by those animated characters. We need to see some more of them before we can make any real judgement, but considering the teaser broke our cold, black little hearts, we can expect the rest of this movie will do the same.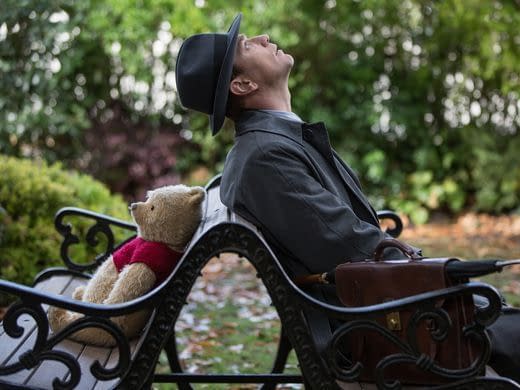 Summary: Working-class family man Christopher Robin encounters his childhood friend Winnie-the-Pooh, who helps him to rediscover the joys of life.
Christopher Robin, directed by Marc Foster, stars Ewan McGregor, Hayley Atwell, Jim Cummings, Chris O'Dowd, Toby Jones, Peter Capaldi, and Brad Garrett. It will be released on August 3rd.