The New York Asian Film Festival opened with a literal bang in an epic biopic about Japanese porn magnate Akira Suei. Dynamite Graffiti is a two-hour-and-15-minute journey that follows Suei's humble beginnings as a disgruntled factor worker before quitting to become a sign painter and graphic designer. He moves on to magazines and works his way up to become the editor of bestselling countercultural 1980s porn magazines that featured articles about Japan's underground culture by distinguished writers and works by art photographers like Nobuyoshi Araki.
Based on Suei's autobiographical essays, the movie finds his Rosebud moment in the childhood trauma of his mother blowing herself up with a lover in a dynamite-fueled suicide pact. The script suggests that this sent him toward a lifelong campaign of pursuing the mysteries of the feminine by producing porn. If your mother blew herself to smithereens, of course you're going to end up producing porn and treating women badly.
There's some deadpan humour in the endless police raids and obscenity charges his magazine faced, including his frequent visits to the police station to sit through one cop going into minute detail on what should and shouldn't be shown in pornographic photography. There's also a funny scene of women around the office using scotch tape to create sound effects for phone sex calls.
Suei is presented as a kind of working-class Hugh Hefner, an affable goofball, but actually comes off as emotionally detached and unlikable. There's also a deeply sad subplot about Suei's extramarital affair with a female employee who ends up in a mental institution and permanently crippled after a suicide attempt, exposing what a callous shit he was to women, no matter how guilty he felt about what happened after he used her for his own romantic urges. And his long-suffering wife never has any say in his job or his carryings-on. The movie is entirely from a male point of view in its journey through Japanese cultural and sexual mores from the freewheeling '60s to the boom years of the '70s and subsequent economic fallout of the late '80s.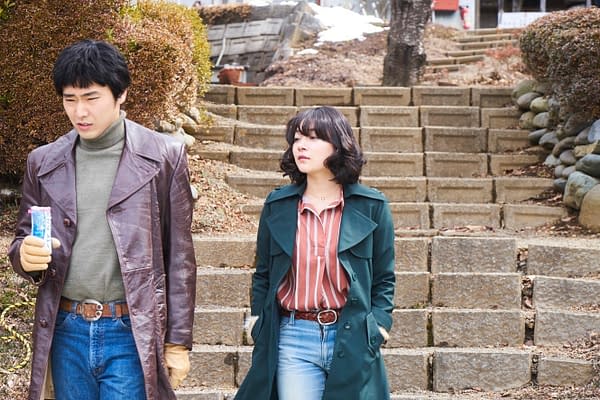 What permeates the movie is a sense of how deeply sexist and patriarchal Japanese society is, as women are frequently relegated to objects of men's lust, desire, and bafflement. There are scenes of models being coerced into stripping for photographers under the exhortation that it's art, and in the current age of #MeToo they come off as deeply uncomfortable for how true those scenes feel.
If nothing else, this movie recreates flawlessly the look and feel of '80s Japanese Pinku-eiga sexploitation movies in an epic biopic, without the uplifting or redemptive arc of Hollywood studio movies. It's like a Science Fiction movie in the way it recreates both Japan and the past as an alien world, seen through the eyes of a man who not only lived through it, but helped shape it.
Tickets for the New York Asian Film Festival can be ordered at the Film Society of Lincoln Center's website.
Enjoyed this article? Share it!