Nick Frost and Simon Pegg Ghost-Hunter Comedy Series "Truth Seekers" Happening
Simon Pegg and Nick Frost are no strangers to the supernatural, nor to the comedy genre. Last year the pair launched their own production company, Stolen Picture, and announced their plans to venture into additional content, such as a new tv series.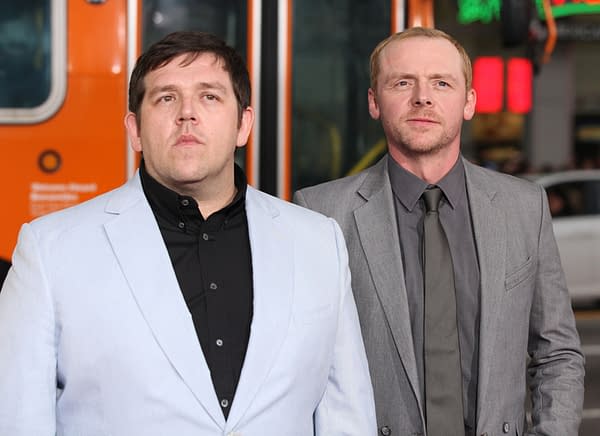 The first item that we'll see from Stolen Picture will be a film called Slaughterhouse Rulez, directed by Crispian Mills and currently in post production. Pegg said the film is very satirical, very much about the U.K. selling itself off, and that "it's about fracking as well."
The two are always busy- Pegg will be in Ready Player One out in March (he's also currently filming MI: 6) and Nick can be seen in Into The Badlands on TBS and Tomb Raider opening in March.
"I'd rather have a lot less money and make a film or a TV series and have a great time doing it than put it through a million processes and people you don't know and you don't respect creatively. That's the trade off," Nick Frost said.
There is also a second film in the planning stages, about a fading double act who haven't spoken for decades but reunite one last time. "We'd like to do it as a two-hander and make it on a very low budget," says Pegg. "We've had the idea for a long time, and we're going to write an outline and then improvise and make something, which is far looser than when we work with Edgar…where every transition is so precise."
The other bit of news is a tv series called Truth Seekers that is currently being shopped around for distribution, even though they are backed by Sony Pictures Television. This would maybe mean it would find a home on STARZ, but it's too soon to tell.
Pegg said of Truth Seekers:
"Each episode is going to be an adventure, a potential haunting or something.It'll start as a very parochial idea, a very small business venture for these people, but it will expand as the series goes on to be something far more global. It's a language everyone understands, the mystery of the unknown. 'Shaun of the Dead' was a very parochial story set in North London and somehow it managed to get this global reach because everyone understands the language of zombie movies."
Sony Pictures Television President of International Production Wayne Garvie said of the show- "Despite being very British, in terms of their sense of humor and perspective on the world, they have created content that has been lapped up around the world. Whether as actors, writers, producers, or even directors they have a constituency around the world they reach out to and a real bedrock of support and love in Britain."
We'll let you know if Truth Seekers gets picked up to series, and keep you updated on Stolen Picture plans.