Hit STARZ original series Outlander knows what their fans are waiting for during Droughtlander (one of the worst yet, btw). Last year at the end of season 3 we left Jamie (Sam Heughan) and Claire (Caitriona Balfe) on the shores of America, after surviving a hellish storm and shipwreck. Despite a less-than-ideal season, knowing what's (theoretically) to come with season 4 helps keep some optimism.
Maybe you'll recall last year the SUPER IMPORTANT casting announcement of canine character Rollo, who we actually won't meet til season 4. A pair of Northern Inuit pups were cast as the faithful companion of a Fraser family member, and the show wanted to get the training started quickly for everything the good boi will need to do.
Well, it looks like those pups have grown a bit. The official Outlander twitter account tweeted this image of Rollo now to celebrate the Lunar New Year, and the ringing in of The Year of the Dog.
#YearOfTheDog? You know what that means: Year Of Rollo. To celebrate, we want to see YOUR Outlandogs! #Outlander pic.twitter.com/MZq7TBhfdV

— Outlander (@Outlander_STARZ) February 16, 2018
But seriously HOW HANDSOME IS HE??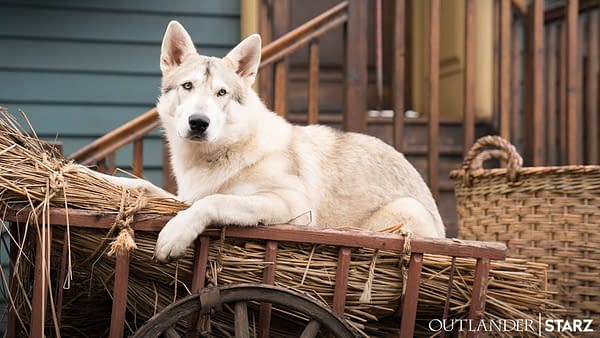 "Outlander" book series creator and author Diana Gabaldon had this to say about the character:
"They look cute, but tough. They should be just right to play Rollo when the time comes. They'd need to growl and look menacing on command, I think, and carry back prey of one kind or another to their master. I assume they wouldn't let them catch things on camera … especially fish, of course."
Editor at Entertainment Weekly Lynette Rice posted this photo of herself on set with one of the furry Rollo actors:
Doggone it, Rollo takes a way better picture than me! Lynette Rice releases new pic of Lynette Rice with Northern Inuit poochie, who was hot and tired from his big scene with Sam and Cait last October. Not pictured: his twin bro in a nearby cage. Pictured: cool extras. #Outlander pic.twitter.com/qio26WtOQM

— Lynette Rice (@Lynetterice) February 16, 2018
No word yet on the white sow casting.
Outlander will premiere on STARZ sometime this fall.
Enjoyed this article? Share it!