"Top Gun: Maverick" to Soar at San Diego Comic-Con
Those attending 2019 San Diego Comic-Con should be prepared to step back into the danger zone as Paramount and Skydance Media will tease the upcoming film Top Gun: Maverick. Non-studio sources tell Deadline Hollywood that cast are being booked on flights and hotels. Star Tom Cruise hasn't been confirmed yet, but it's unlikely he would miss the panel.
CineEurope attendees in Barcelona were treated to two minutes of footage from the film, which was shot in San Diego last summer. Not much else is known how Paramount and Skydance will present the film.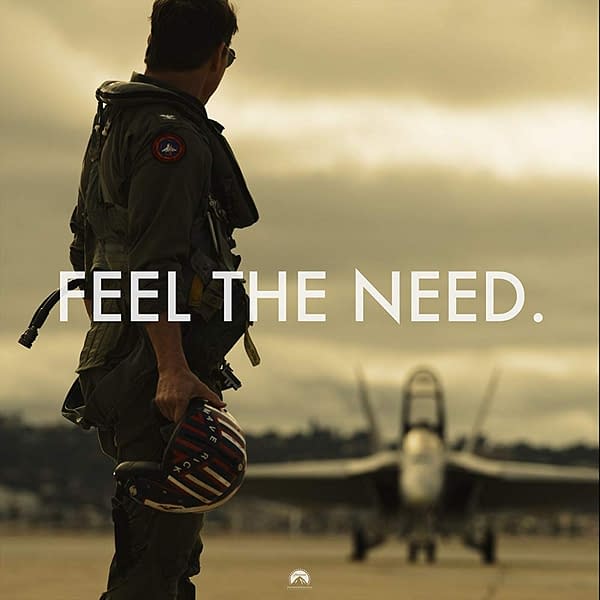 Top Gun: Maverick is the sequel to Top Gun, which was released 33 years ago. Directed by Tony Scott and written by Jim Cash and Jack Epps, Jr, the 1986 original follows Maverick (Cruise) as a hotshot pilot entered into Top Gun, an elite pilot program. The film also starred Kelly McGillis, Val Kilmer, Anthony Edwards, and Tom Skerritt.
The Top Gun Naval Fighter Weapons School is where the best of the best train to refine their elite flying skills. When hotshot fighter pilot Maverick is sent to the school, his reckless attitude and cocky demeanor put him at odds with the other pilots, especially the cool and collected Iceman (Kilmer). But Maverick isn't only competing to be the top fighter pilot, he's also fighting for the attention of his beautiful flight instructor, Charlotte Blackwood (McGillis).
The film helped launch Cruise into superstardom after making $356.8 million at the box office from a $15 million budget. It also provided one of the decade's most popular ballads in Berlin's "Take My Breath Away" and Kenny Loggins' "Danger Zone", which became Billboard hits. Loggins is recording an updated version of "Danger Zone" for the sequel.
The sequel has a briefer synopsis.
Pete "Maverick" Mitchell mentors a new generation of U.S. Navy fighter pilots.
Joseph Kosinski (Oblivion, TRON: Legacy) directs with Peter Craig, Justin Marks, Christopher McQuarrie, and Eric Warren Singer write the screenplay. Cruise, Jerry Bruckheimer, David Ellison, Dana Goldberg, and Don Granger are producers with Tommy Harper, Chad Oman, and Mike Stenson as executive producers.
The only confirmed returning cast members are Cruise and Kilmer. Joining them for the sequel are Jennifer Connelly, Miles Teller, Glen Powell, Jon Hamm, and Ed Harris.
Top Gun: Maverick is scheduled for release June 26th, 2020.