Watch The Trailer For New Rosamund Pike Drama Radioactive
Rosamund Pike is starring in a new biopic of Marie Curie called Radioactive for Amazon Studios, and the first trailer dropped this morning. It takes a look at the life of one of the science's great minds; this drama will allow Pike to flex her dramatic acting muscles for sure. The film also stars Sam Riley and Ana Taylor-Joy and is directed by Marjane Satrapi from a script by Jack Thorne, from the book by Lauren Redniss. You can watch the trailer, see the poster, and read the synopsis for Radioactive down below.
Radioactive Synopsis & Poster
"RADIOACTIVE is the incredible, true story of Marie Skłodowska Curie and her ground-breaking scientific achievements that revolutionized medicine with her discovery of radium and polonium, ultimately changing the face of science forever. Marie was the first female to win the Nobel Prize and the first person in history to win the esteemed award twice. Oscar-nominated Marjane Satrapi (Persepolis) directs this dazzling cast, which includes Rosamund Pike (Gone Girl, A United Kingdom) as Marie with Sam Riley (Control) playing her beloved husband and Aneurin Barnard (Dunkirk) as her lover, Paul; rising star Anya Taylor-Joy (The Witch) also stars, playing the young Irene, Marie Curie's daughter. Available on Prime Video in the U.S. on July 24th."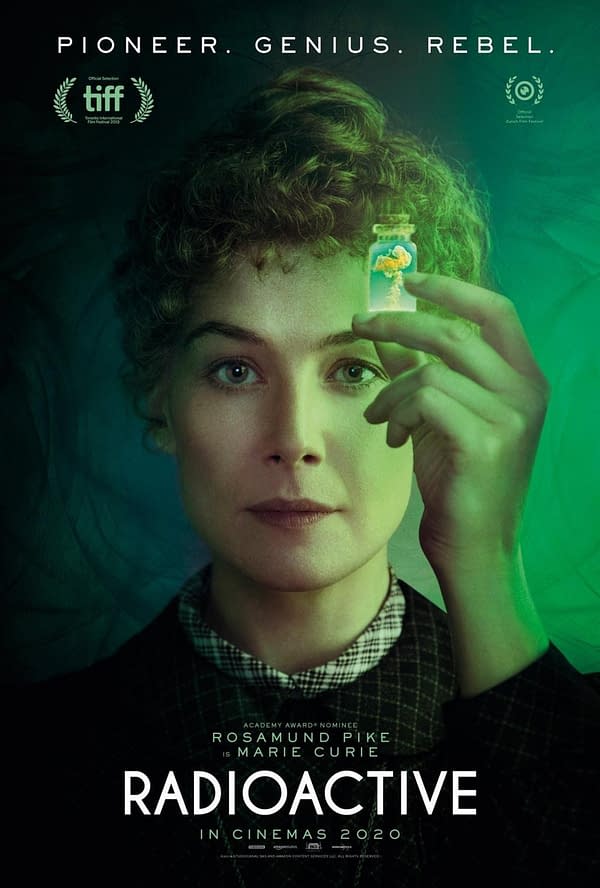 I don't know as much as I probably should know about Curie, so this should be an excellent watch. Pike is always a joy, especially when she gets to sink her teeth into the material ala Gone Girl. Amazon Studios has had some stellar work come out this year, but seem to be lagging behind Netflix and Hulu in the film departments, so maybe Radioactive can help turn that around when it debuts on Prime Video on July 24th.