Renfield: Stunt Coordinator Chris Brewster on Comedy, Dir Chris McKay
Stunt coordinator Chris Brewster (Teen Wolf) talks to Bleeding Cool about reuniting with director Chris McKay on Universal's Renfield.
---
Chris Brewster has accomplished so much in his 20 years in the Hollywood stunt world, working in various franchises across film and television. Among them are Marvel, DC, Star Trek, and Star Wars, but the wildest project he's worked on involves one of his frequent collaborators, director Chris McKay in Universal's Renfield. While promoting his latest action drama in Paramount+'s Teen Wolf: The Movie, Brewster spoke to Bleeding Cool about working with McKay and his admiration for his work. The two recently also worked together on Amazon Prime Video's The Tomorrow War.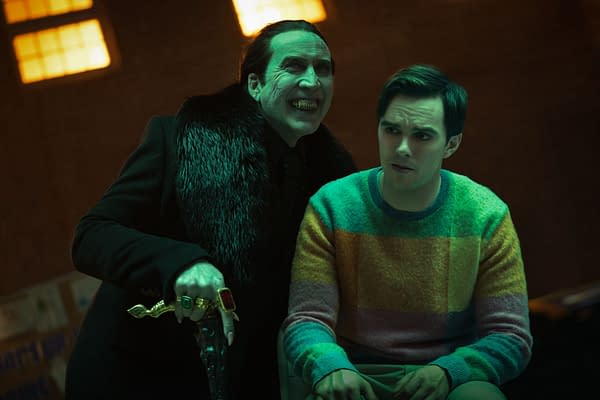 Working on 'Renfield'
"[Renfield] was the best experience of my career because I idolize Chris McKay. He is incredible," Brewster said. "He's done 'The Lego Movie' and 'The Tomorrow War.' He's an inspiration of mine, and working side by side with him. There was a lot of action, and we had such a great dynamic working together where I knew everything that he wanted in every beat of the action. He opened the door for me to do quite a bit. I stepped in, and I was second unit directing. I got to film a lot of the action sequences, and having the trust of somebody that I respect so much meant the world to me. I had such an amazing stunt team backing me up, and we created some amazing sequences. I can't wait till that one comes out and everyone sees what we were able to do on that one."
The film stars Nicholas Hoult as the title character, an action-comedy spin on Brahm Stoker's Dracula from The Walking Dead and Invincible's Robert Kirkman. Renfield is the reluctant right-hand man of Count Dracula (Nicolas Cage). Forced to feast on insects, Renfield's physically enhanced as his master leaves a path of carnage and destruction in his wake. He finds a new lease on life in modern-day New Orleans at a mental asylum when he falls in love with traffic cop Rebecca Quincy (Awkwafina). Written by Ryan Ridley, Renfield, which also stars Ben Schwarz and Adrian Martinez, comes to theaters on April 14th. Teen Wolf: The Movie is available to stream on Paramount+.