Renfield: Nicolas Cage Shares Who Help Inspire His Version Of Dracula
Renfield star Nicolas Cage teases what famous Dracula performance helped inspire his take on the classic character.
---
When it comes to crafting a character, many people are involved, and a business veteran like Nicolas Cage understands that. We all knew that whatever look and performance they went with for his version of Dracula, it would be different and a ton of fun. We got our first look at some set photos, but Universal finally released the trailer and images for Renfield last week. We are starting to learn a little about what went into the production. Collider got the chance to speak to Cage about where he drew inspiration, but Cage made sure to shout out the costume department when it came to the look. It was the late great Christopher Lee from the 1958 film that Cage cited specifically.
"Well, I had a lot of help. There were a ton of super-talented people on that movie that helped design the look," Cage explained, shouting out the often underappreciated costume designers. "We wanted it to be more homage, more Christopher Lee. I favored Christopher Lee as Dracula, and I liked his kind of sixties hairdo, but the wardrobe, the costume, and, no, I didn't come up with the idea for the rings. That all came out of a wardrobe. They came in with all that. Maybe they sent something in me that I would like that, but that was really their contribution."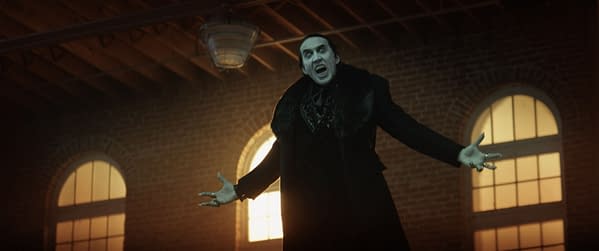 Nobody who has ever worked with Cage has ever had a bad word to say about him, and to see him trying to take as little credit for this here shows how humble he is. He recently revealed that his Dracula wouldn't have much screen time in Renfield, but we can expect him to be a looming presence whether he is seen or not. Then, when he does show up, it'll be to show off that passion and love for his craft that made his co-star Brandon Scott Jones emotional to see.
Renfield: Summary, Cast List, Release Date
Evil doesn't span eternity without a little help. In this modern monster tale of Dracula's loyal servant, Nicholas Hoult (Mad Max: Fury Road, X-Men franchise) stars as Renfield, the tortured aide to history's most narcissistic boss, Dracula (Oscar® winner Nicolas Cage). Renfield is forced to procure his master's prey and do his every bidding, no matter how debased. But now, after centuries of servitude, Renfield is ready to see if there's a life outside the shadow of The Prince of Darkness. If only he can figure out how to end his codependency.
Renfield is directed by Chris McKay (The Tomorrow War, The LEGO Batman Movie) from a screenplay by Ryan Ridley (Ghosted series, Rick & Morty series), based on an original idea by The Walking Dead and Invincible creator Robert Kirkman. The film co-stars Awkwafina (The Farewell, Marvel's Shang-Chi and the Legend of Ten Rings), Ben Schwartz (Sonic, The Afterparty), and Adrian Martinez (The Secret Life of Walter Mitty, Focus). Renfield is produced by Skybound Entertainment partners Robert Kirkman and David Alpert (The Walking Dead, Invincible), co-presidents Bryan Furst (Daybreakers) and Sean Furst (Daybreakers), and by Chris McKay. McKay's producing partner Samantha Nisenboim (co-producer, The Tomorrow War) will executive produce. It will be released on April 14th, 2023.