Rian Johnson Says His Next Project Is The Third Knives Out Film
Glass Onion director and writer Rian Johnson has confirmed that Knives Out 3 will be the next project that he works on.
---
Knives Out was a surprise little hit that did so well that Netflix came along and offered $500 million for the rights to the next two films. We got the first of those two films, Glass Onion, late last year. The reviews weren't as glowing as the first one, but people seemed to enjoy it, and it did well for Netflix. It has been slowly making its way up the Most Popular Films chart as we close in on that 28-day release window. People have been asking director and writer Rian Johnson about the third film for obvious reasons. While he has given some joke answers, including spinning a globe and landing on Utah to entertaining the jokes about the Muppets, he has confirmed one thing. According to Empire, Johnson has confirmed that he is jumping right into Knives Out 3, which will be the next project he is working on. However, if you're looking for any sort of details, all Johnson can confirm is that he's in the planning stages and is excited.
"I'm making the next [Benoit Blanc movie] next," he confirms to Empire, "because it's the most exciting thing right now to me. That's served me really well. I feel like any movie I'm making; I need to be making it because I can't imagine doing anything else. I'm jumping into the next Benoit Blanc next because I can't think about another story. … I've got a big cloud of ideas, but it hasn't all snapped into focus yet. It's exciting, though, and it's very, very different from this one. That's what I'm excited about."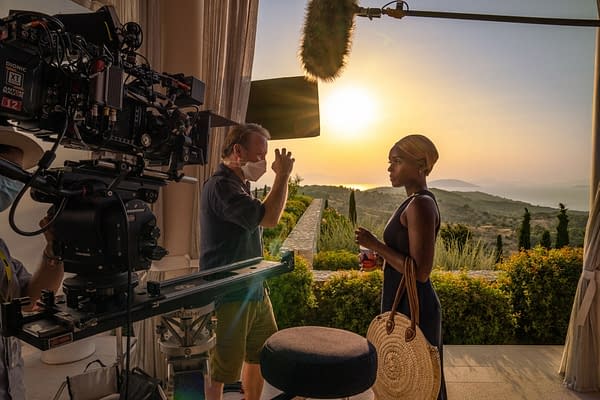 Rian Johnson Writes A Knives Out Story Structurally
When it comes to writing the next Knives Out film, Johnson has been asked about his process many times because people are always curious about films like this. How exactly do you make all these pieces fit together correctly? How do you ensure all the right clues are hidden correctly? It is a type of writing and storytelling that is as much of a mystery to people interested in that sort of thing as the mystery presented on screen. For Johnson, he goes old school, writing longhand in notebooks [shoutout to my fellow people who outline longhand] and writing structurally instead of starting with the crime.
"I start structurally," he says. "I start working in notebooks. I don't start with a crime; I start with the structure of the story and what the audience's journey is actually going to be through the story. Which has to do with the crime, but more than that, it has to do with who we care about and why. … That's great, as opposed to, 'Let's come up with a great murder,' where you'll drive yourself insane trying to do it."
That sort of structure writing means that the mysteries in both Knives Out and Glass Onion tend to come into focus later in the film rather than right at the beginning. Johnson and star Daniel Craig seem like they are having a ball making these films, so if they want to make a bunch more about film three, and if film three does as well as film two, something tells me that Netflix will keep cutting the checks.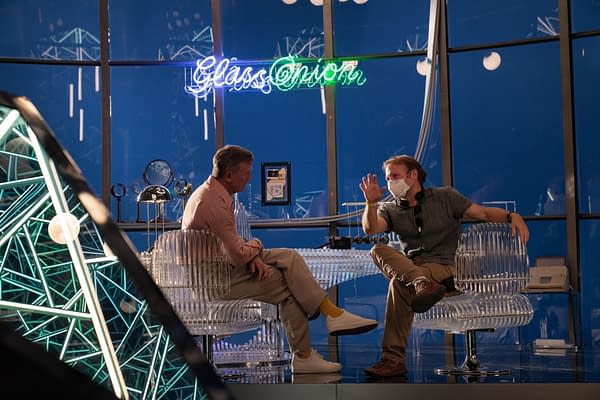 Glass Onion: A Knives Out Mystery: Summary, Cast, Release Date
Benoit Blanc returns to peel back the layers in a new Rian Johnson whodunit. This fresh adventure finds the intrepid detective at a lavish private estate on a Greek island, but how and why he comes to be there is only the first of many puzzles. Blanc soon meets a distinctly disparate group of friends gathering at the invitation of billionaire Miles Bron for their yearly reunion. Among those on the guest list are Miles' former business partner Andi Brand, current Connecticut governor Claire Debella, cutting-edge scientist Lionel Toussaint, fashion designer, and former model Birdie Jay and her conscientious assistant Peg, and influencer Duke Cody and his sidekick girlfriend Whiskey. As in all the best murder mysteries, each character harbors their own secrets, lies, and motivations. When someone turns up dead, everyone is a suspect. Returning to the franchise he began, Academy Award-nominated filmmaker Rian Johnson writes and directs Glass Onion: A Knives Out Mystery and assembles another all-star cast that includes a returning Daniel Craig alongside Edward Norton, Janelle Monáe, Kathryn Hahn, Leslie Odom Jr., Jessica Henwick, Madelyn Cline with Kate Hudson and Dave Bautista. It played in theaters from November 23rd to 29th and streamed to Netflix on December 23rd.