As we head into the third consecutive WrestleMania geared toward getting Roman Reigns over as a babyface with fans, there's been a lot of speculation about whether or not Reigns will win the men's Royal Rumble match this weekend. Reigns last won the match in 2016, after spending most of the match taking a nap backstage. The crowd was so upset at Roman's victory that they even booed his cousin, The Rock, when he raised Roman's arm in victory.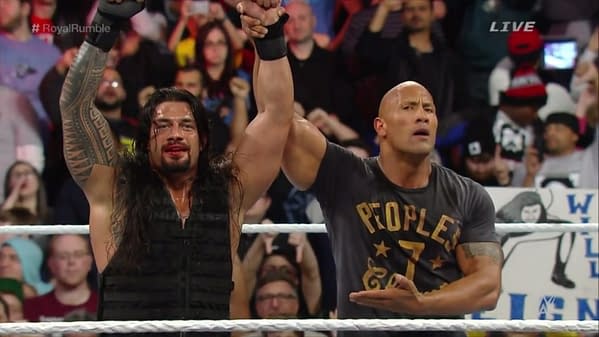 But WWE may well try again. There are two prevailing theories for the Rumble this weekend. One sees Roman Reigns victorious once more, going on to challenge Brock Lesnar for the WWE Universal Championship at WrestleMania, which has been WWE's goal for some time. The other sees a SmackDown Live Superstar winning the Rumble, and Reigns obtaining his title opportunity some other way before WrestleMania.
But if you ask sixteen-time world champion and winner of the 1992 Royal Rumble, the Nature Boy Ric Flair, it should definitely be the former.
"When you keep in mind a lot of the focus is pointing towards Mania, then I think Roman Reigns has got a good chance," Flair said in an interview with Sky Sports, stating the obvious. "I love Roman, he's a great character and a great guy. He deserves it."
As for the women's Royal Rumble match, Flair sees Asuka's undefeated streak continuing at the historic first-time event.
"I would say Asuka," Flair said when asked for a prediction. "She's colorful, the fans love her, and she's like the women's version of Muta, with the paint and everything, and she's very talented. All of the kids from Japan that come over are technically and mechanically very strong."
They're almost as strong as WWE would like Roman Reigns to be made to look on Sunday.
Enjoyed this article? Share it!