Having starred across some of the biggest film franchises in the world, Samuel L. Jackson is no stranger to badass characters. It fills us with delight that Jackson calls Brie Larson's Captain Marvel character Captain Carol Danvers a badass before she even gets her Kree powers.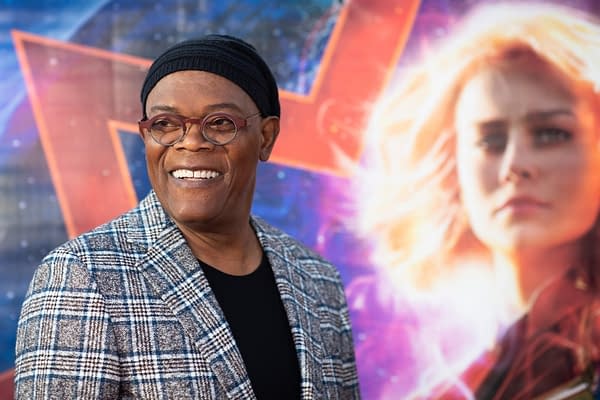 In a recent interview with Entertainment Weekly, Jackson and Larson got candid about how Carol's discovery of her pre-Starforce past defines her, rather than her all-encompassing Kree powers:
JACKSON: It's kinda crazy, too, that being Captain Marvel doesn't necessarily define you. When you do make the discovery of who Carol Danvers was and what was going on, she had a life [before getting her powers], and she's pretty badass already. So that whole thing about, you know, "You are what we made you." It's like, "That's some bulls—." Like, "I was a badass way before we got there."

LARSON: But that's a huge part of why I felt comfortable doing this, because originally I was like, "I'm not interested in an idealized version of perfection." I'm not interested in portraying perfect, strong women that never make the wrong choice because I consider myself a risk-taker, and I make a lot of mistakes because of that. That's how it works. Big swings sometimes mean a big failure.
The first "public" screening of Captain Marvel happened in Los Angeles and so far, the reactions are overwhelmingly positive. Everyone loves Goose the cat, everyone loves Ben Mendelsohn, and everyone LOVES Brie Larson as the good Captain. (You can read about the first reactions here.)
Anna Boden (first female director for Marvel Studios, only took 21 films) and Ryan Fleck are directing from a script they wrote with Liz Flahive, Carly Mensch, Meg LeFauve, Nicole Perlman, and Geneva Robertson-Dworet.
Captain Marvel stars Oscar winner Brie Larson as Carol Danvers, Samuel L. Jackson as Nick Fury, Jude Law as the commander of Starforce (who may or may not have two names), Clark Gregg as Phil Coulson, Lee Pace returning as Ronan the Accuser, Djimon Hounsou as Korath the Pursuer, Gemma Chan as Minn-Erva, Ben Mendelsohn as Skull Commander Talos, Lashana Lynch as Maria Rambeau, Algenis Perez Soto, McKenna Grace, and Annette Bening in as-yet-undisclosed roles.
Captain Marvel is set to hit theaters on March 8th 2019 (International Women's Day), and tickets are on sale now.
Enjoyed this article? Share it!