We've been getting all sorts of fun hints about Shazam! in the lead-up to Comic-Con International this week. We got two new images and the rumors that a trailer is going to drop during the Warner Bros. Hall H presentation. Star Zachary Levi took to Twitter to ask Entertainment Weekly if they could release a cover with Shazam! on it.
Just say the magic word

— Entertainment Weekly (@EW) July 17, 2018
We were thinking something more like #Shazam! but, okay, here ya go… https://t.co/bbzs85zTLf #SuperHeroGoals pic.twitter.com/p0sI4Cb1AT

— Entertainment Weekly (@EW) July 17, 2018
Ha! Really? That feels a little on the nose, but if—HOLY S#!T IT WORKED!!! And that cover is dooooooooooooooooooope. 😏 Thank you for this, and for our completely impromptu and not planned at all exchange!!! 💅@ShazamMovie https://t.co/ywSitteNtM

— Zachary Levi (@ZacharyLevi) July 17, 2018
So we got our cover, which means we also got a chance to hear what Levi thinks about this character. Levi talked about the wish fulfillment and how there aren't any characters like Shazam in either Marvel of DC.
"It's complete wish-fulfillment — if you scour all of DC and Marvel there are very few characters that are actually stoked to be a superhero," Levi enthuses. "They're not brooding, they're not put out, like 'Oh dammit, I gotta save the world again!' Billy Batson is like Peter Parker, they're thrilled to have these powers and can't wait to try them out."
Ever since some leaked set footage came out, people have been up in arms about the suit. These new images seem to be winning people over.
"It fits me like a glove, because it is a f—king glove," Levi quips. "It's super tight, but it's great. I look and feel like this jacked superhero."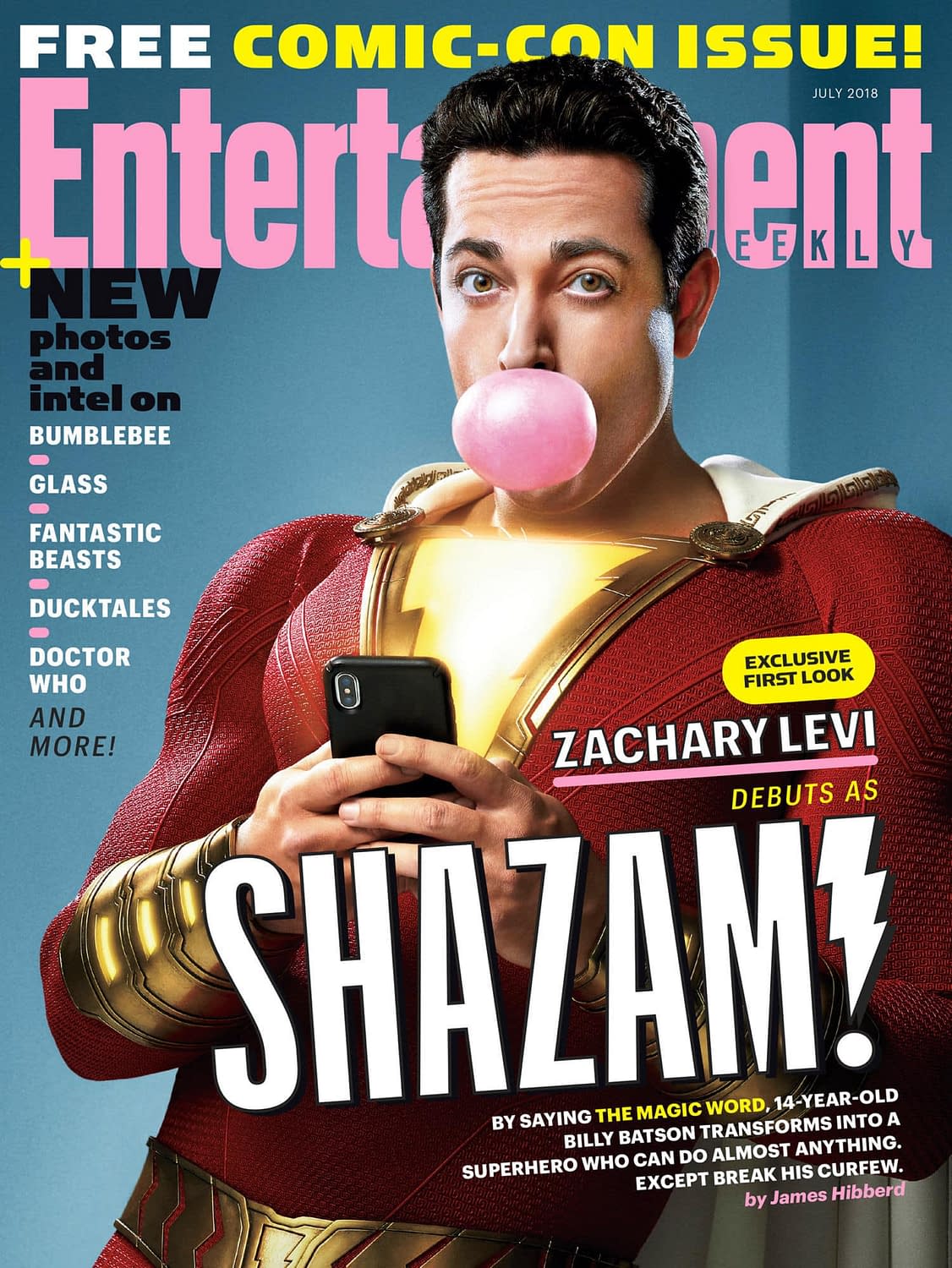 DC, Warner Bros., and New Line appear to be trying something very different with Shazam!. The character being a kid means that they movie can't be as dark as some of the other DC movies.
"From my perspective, Shazam! represents the next step in the evolution of the DC brand," producer Peter Safran notes. "You had Wonder Woman, then Aquaman [coming Dec. 21] is another big step, then comes Shazam! — all different movies, but all have a unique tone that moves away from the darkness of the prior DC movies."
The rumor is we should expect a trailer from Shazam! this weekend, and all of this promotion could mean that it'll get some sort of wide release. No one is really talking about this one so far, and Comic-Con is the best place to drum up a lot of good will and publicity.
Summary: A boy is given the ability to become an adult superhero in times of need with a single magic word.
Shazam!, directed by David F. Sandberg, stars Zachary Levi, Mark Strong, Grace Fulton, Faithe Herman, Jack Dylan Grazer, and Asher Angel, and will be written by Henry Gayden and Darren Lemke. It will be released on April 5th, 2019.
Enjoyed this article? Share it!