There is speculation that the fifth entry in the Indiana Jones franchise will pass the wide-brimmed fedora and whip from Harrison Ford into younger hands who can carry the franchise further. If that does happen in Indiana Jones 5, the torch will not be passed to Henry Jones III. According to screenwriter David Koepp, Indy's son Mutt Williams (Shia LaBeouf) does not appear in the version of the movie he just finished writing.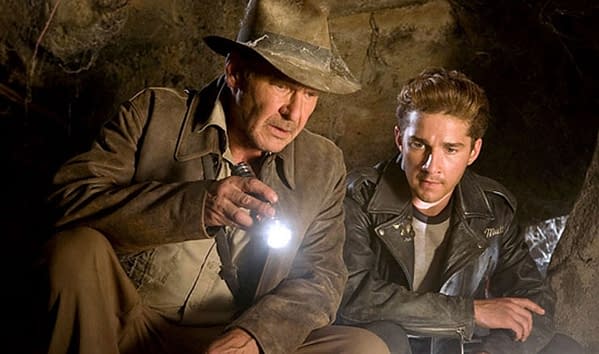 Mutt, introduced in the 2008 Indiana Jones and the Kingdom of the Crystal Skull, was not exactly well received when the film came out, and since then the actor who portrays him has become a bit of a controversial figure.
Koepp told EW.com:
"Harrison plays Indiana Jones, that I can certainly say. And the Shia LaBeouf character is not in the film."
Ford, who is now 75, first played the role of the adventurous archaeologist in the 1981 film Raiders of the Lost Ark. He went on to reprise the role in Temple of Doom (1984) and the Last Crusade (1989) before returning to the character almost 20 years later in Crystal Skull. By the time Indiana Jones 5 is released, it will have been another 12 years before he picks up the whip again — and the odds are it will be the last.
Ford seems to be doing a farewell tour for some of his greatest roles, having returned to the Star Wars franchise to wrap up Han Solo's story in Star Wars: The Force Awakens (2015) and will soon be seen as Richard Decker again in Blade Runner 2049 later this year.
Koepp says he and Steven Spielberg are largely satisfied with the current screenplay:
"We're plugging away at it. In terms of when we would start, I think that's up to Mr. Spielberg and Mr. Ford. I know we've got a script we're mostly happy with. Work will be endless, of course, and ongoing, and Steven just finished shooting The Post …. If the stars align, hopefully it'll be his next film."
Perhaps the reason for his not returning to the franchise lies in a 2010 interview LaBeouf gave to the Los Angeles Times, where the told the paper he felt he'd "dropped the ball on the legacy that people loved and cherished," and said Ford himself was not happy with the film. Ford, never one to mince words, called LaBeouf a "F***ing idiot" for the comments.
Even without it going to LaBeouf, expect the franchise will be passed along in 2020… or whenever Spielberg's and Ford's schedules align to make the film.
Enjoyed this article? Share it!