Slaughterhouse Rulez Trailer Reunites Horror-Comedy Duo Simon Pegg and Nick Frost
Slaughterhouse Rulez debuted its trailer this afternoon, reuniting everyone's favorite horror-comedy duo Simon Pegg and Nick Frost. Previous collaborations between the two include Shaun of the Dead, Hot Fuzz, The World's End (those three form their celebrated Three Flavours Cornetto trilogy), and the underrated sci-fi comedy Paul. Check out the Slaughterhouse Rulez trailer below!
Welcome to Slaughterhouse, an elite boarding school where boys and girls are groomed for power and greatness…and they're about to meet their match. This ancient and ordered world is about to be shaken to its foundations – literally – when a controversial frack site on prized school woodland causes seismic tremors, a mysterious sinkhole, and an unspeakable horror to be unleashed. Soon a new pecking order will be established as the pupils and teachers alike become locked in a bloody battle for survival…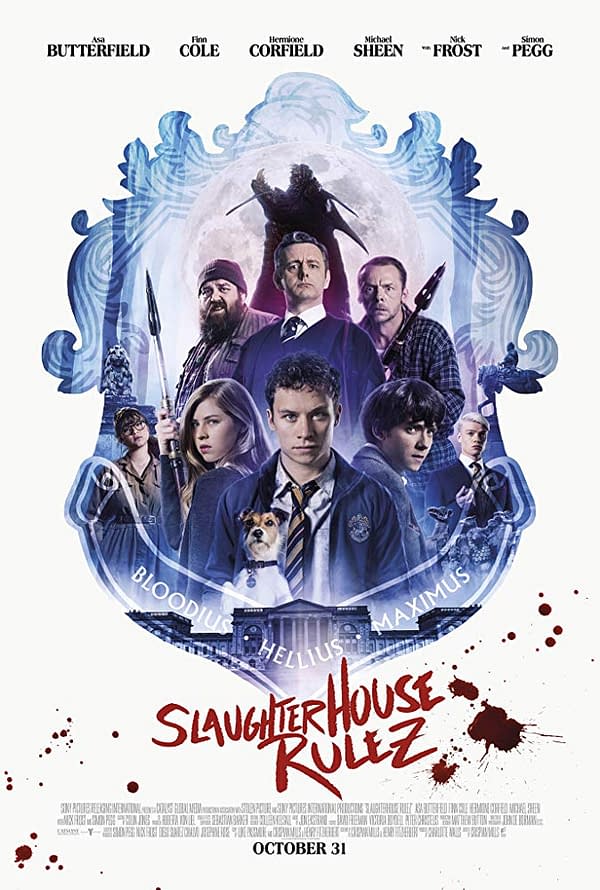 Looks like a fun time at the theater to me. The creatures look like they have a pretty awesome design, and the rest of the cast including Michael Sheen, Asa Butterfield, Finn Cole, and Hermione Corfield all look like they are having a bloody good time. There are even some Harry Potter-vibes at the school as well. I guess boarding school is a fun and games until someone opens a pit to hell.
Slaughterhouse Rulez, directed by Crispian Mills, hits theaters in the UK on Halloween. There is no word on a US release quite yet.