Star Wars Celebration is only five moths away believe it or not, and the guest list is starting to take shape. A list of authors that will be in attendance has come out, all will be on hand signing books, appearing on panels, and more. While there may be many more announcements, let's dive into who is for sure going to be in Chicago.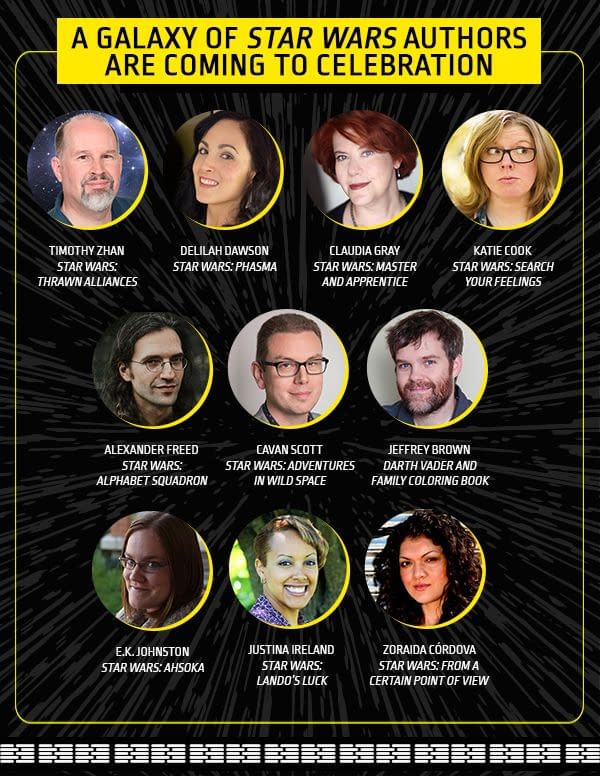 Some great authors who have helped really shape the new cannon will be there, including Timothy Zhan, Delilah Dawson, Claudia Gray, and E.K. Johnston. All four of them have written some pretty epic novels. Gray and Johnston especially have written books that fans gobbled up and really responded to. Alexander Freed's upcoming novel Alphabet Squadron will be set after Return of the Jedi, and will focus on five former Rebel pilots hunting down the last remnants of the Empire. That releases June 4, so expect a lot of news on that one there. Justina Ireland's book Lando's Luck is a fun adventure with a young Lando and L3-37, and From a Certain Point of View author Zoraida Cordova will also be on hand. Safe bet she will discuss the Tonnika Sisters with you.
All-ages material is always on hand in droves as well. After all, Star Wars Celebration is for everyone! Katie Cook has a new book out called Search Your Feelings featuring her amazing artwork and poems about different feelings attached to moments from the films. Jeffery Brown will be on hand with his ever-popular books like Vader and Son, Vader's Little Princess, and more. Finally, Cavan Scott has done all sorts of work in the Star Wars universe, from all ages work to contributing to From a Certain Point of View. His latest excellent work was on the Vader's Castle mini-series for IDW.
Star Wars Celebration takes place April 11-15 2019 in Chicago. Look for more guest announcements in the coming months.
Enjoyed this article? Share it!