The Suicide Squad Synopsis Has Been Released By Warner Bros.
The Suicide Squad official synopsis was revealed by Warner Bros. this morning, and it…gives us a little but not a lot. Directed by James Gunn and with a huge cast that includes Viola Davis as Amanda Waller, Margot Robbie as Harley Quinn, Jai Courtney as Captain Boomerang, Joel Kinnaman as Rick Flagg, David Dastmalchian as Polka-Dot Man, Steve Agee as King Shark, Daniela Melchior as Ratcatcher 2, John Cena as Peacemaker, Flula Borg as Javelin, Nathan Fillion as T.D.K., Mayling Ng as Mongal, Pete Davidson as Blackguard, Sean Gunn as Weasel, Joaquin Cosio, Juan Diego Botto, Storm Reid, Taika Waititi, Alice Braga as Soulsoria, Tinashe Kajese, Peter Capaldi as Thinker, Julio Ruiz, Jennifer Holland, Idris Elba as Bloodsport, and Michael Rooker as Savant, you can read the synopsis down below.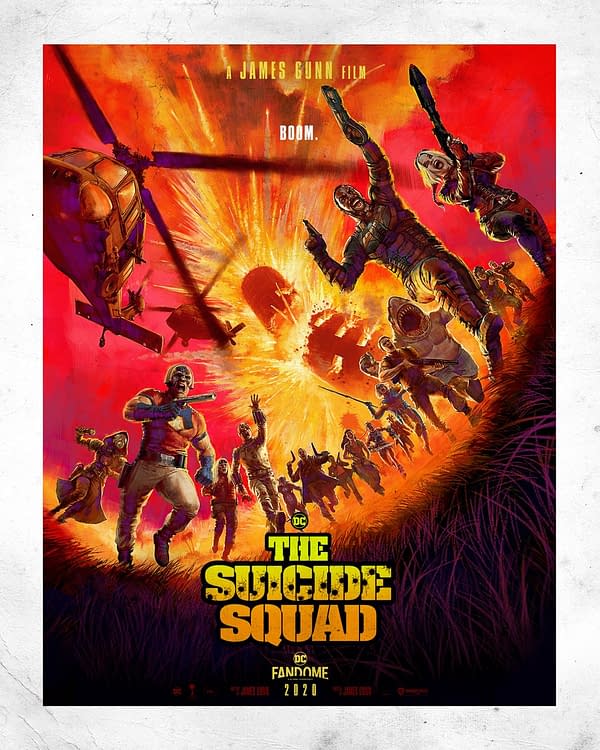 The Suicide Squad Official Synopsis
"Welcome to hell — a.k.a. Bell Reve, the prison with the highest mortality rate in the US of A. Where the worst Super-Villains are kept and where they will do anything to get out — even join the super-secret, super-shady Task Force X. Today's do-or-die assignment? Assemble a collection of cons, including Bloodsport, Peacemaker, Captain Boomerang, Ratcatcher 2, Savant, King Shark, Blackguard, Javelin, and everyone's favorite pyscho, Harley Quinn. Then arm them heavily and drop them (literally) on the remote, enemy-infused island of Corto Maltese."
Who knew that an entire franchise would build off of Suicide Squad when we all left the theater a few years ago? That is the power of James Gunn, I guess. I am very pumped to see what he brings to the proceedings, though I must confess to being more excited for the Peacemaker series starring John Cena than I am the film. Weird. The Suicide Squad will open in theaters and on HBO Max later on in 2021.