The Apollo 11 Documentary is Coming to IMAX for One Week
One of the coolest documentaries to come out of the Sundance film festival was Apollo 11. A true documentary in every form as it doesn't even have a narrator; we just have mission control as we watch the Apollo 11 mission unfold before our eyes. Some of it is footage we've all seen a million times but cleaned up so it looks brand new. A lot of it, however, is footage that has never been seen before and it's amazing. It's one of those true stories that made you forget that you know how this ends. Of course, they land on the moon and everyone makes it out okay, but during the moment you completely forget. You're watching two men land on the moon and your stomach is in knots.
It was already pretty cool that this documentary is getting a big screen release thanks to NEON but they have also announced that it's going to have a limited run in IMAX theaters. The official poster for the IMAX run was shared on Twitter while the trailer was shared to the NEON Youtube page.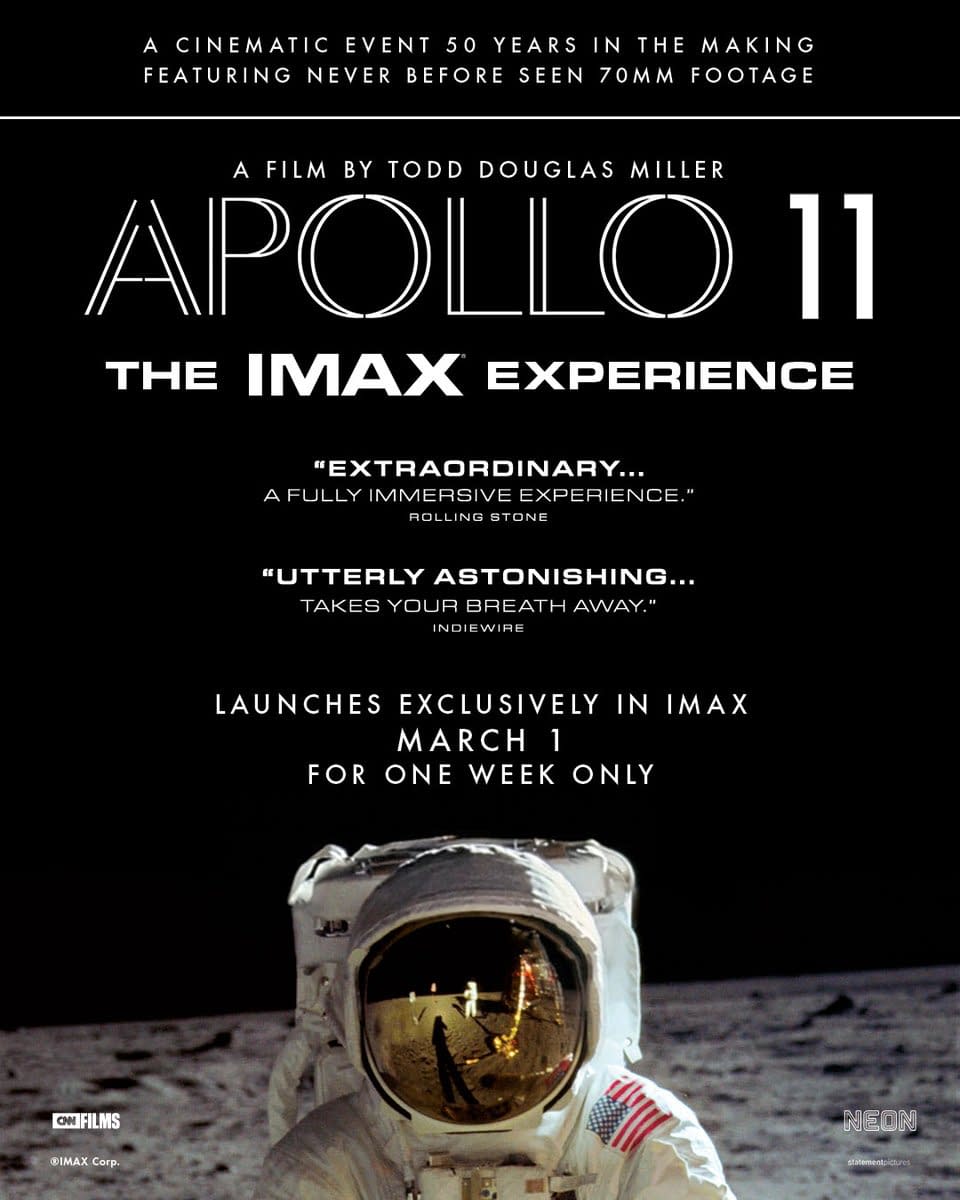 This is already one of those documentaries that is worth seeing on the big screen but now with an IMAX option, you absolutely should not miss it. See this movie on the biggest screen possible and marvel at the accomplishments of NASA.
Summary: NASA's vaults open for the first time to spill this exquisite, never-before seen audio and 70 mm film footage of the Apollo 11 mission. The meandering cameras in Cape Canaveral capture a dreamy-eyed portrait of America as it stepped into the future, and from inside the Apollo 11 spacecraft, the amazingly jocular conversation of the astronauts punctuates each stage of the mission with lightness and charm. Yet the crowds watching the rocket are oblivious to the enormous pressure mission control is under to succeed.
Apollo 11, directed by Todd Douglas Miller, will be in theaters on March 8th.