The Batman Star Peter Sarsgaard Praises Robert Pattinson's Performance
The DC universe of movies is looking to head in a very interesting direction and one of those interesting directions could finally be a Batman movie again. The Batman has been in varying levels of development for years now and had gone through a director and a star on its way to the big screen. Just as it looks like everything was falling into place and director Matt Reeves was sharing first looks on social media and then the COVID-19 pandemic shut everything down. The movie is set to restart production soon but Warner Bros. did make the decision to delay the movie from June 2021 to October 2021 to give everyone involved the time to finish the production. One of the people that have to get back to the set of The Batman eventually is Peter Sarsgaard who confirmed "I'm about 80 percent done with my part, so I would just like to do the last 20 percent" to The Hollywood Reporter. He also talked about what a great job star Robert Pattinson is doing with the role.
He looks amazing. I have to say, he really, really does. The work he was doing was really cool. I really dug his Batman, and I can't wait to see it [on-screen]. I think he's a very interesting actor, and I've liked him in a number of things. I loved him in the Safdie brothers movie [Good Time] that he did. He was so good in that movie. And I actually really liked this one he just did. It's crazy, to me, the comedy movie he just did with Willem Dafoe. The Lighthouse. It's so strange and awesome. He's just an interesting, interesting actor.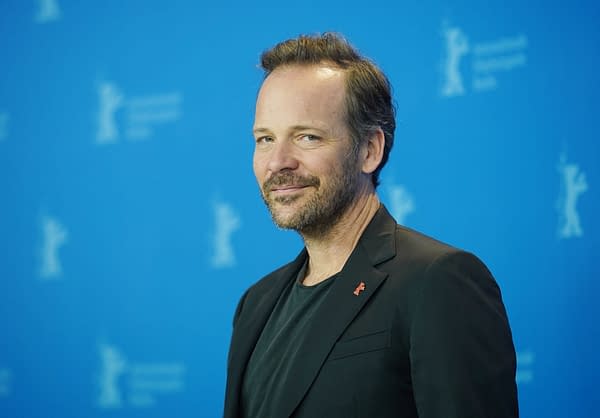 Everyone always jumps all over actors that they aren't good enough or they aren't the right fit for Bruce Wayne. It happens almost every single time they cast Batman as a character so there wasn't much of a difference between the backlash Pattinson got and the backlash anyone else cast in this role got. The cast of The Batman is fantastic of though and Reeves made one of the best trilogies of all time with the Planet of the Apes movies in recent years. If anyone can elevate Batman to another level, with this fantastic cast putting in great performances, it would be him.
The Batman, directed by Matt Reeves, starring Robert Pattinson, Zoe Kravitz, John Turturro, Coin Farrell, Andy Serkis, Paul Dano, Peter Sarsgaard, Jeffery Wright, Max and Charlie Carver, and more opens on October 1, 2021.