'The Favourite' Review: Great Performances Cannot Save This Quirky Drama
[rwp_box_recap id="0"]
Awards season is in full bloom, and one of the films expected to be in the running for most of them is The Favourite. The latest from director Yorgos Lanthimos (The Lobster), this is the period piece turned on its head a bit. While most period pieces cannot avoid a certain level of stuffiness, this one has a more humorous take on the subject matter.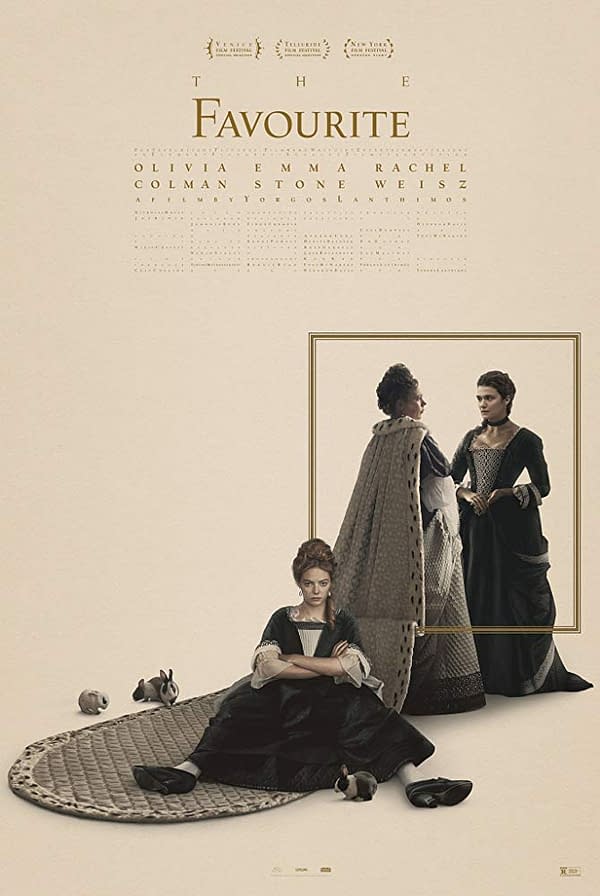 Good thing they have the three leads they do. Abigail (Emma Stone) has arrived to take any job she can get at the estate of Queen Anne (Olivia Colman). Lady Sarah (Rachel Weisz), Abigail's family, takes pity on her lost title and makes Abigail her personal assistant. Lady Sarah and the Queen share a close relationship, and as Abigail becomes closer to both lies, deceit, and heartbreak take hold and none of them will ever be the same again.
That's a pretty vague description on purpose. There are some big discoveries in this film that it would be a shame to learn ahead of time. Sadly, not all of them work. This is a very long-feeling film, even with the whip-smart dialogue and dynamite performances. It is refreshing to see Emma Stone play such a cunning character, she is fantastic as the ambitious Abigail. There is a disturbing scene involving Abigail, a book, and her face that may be one of the most horrifying scenes in a film this year. Olivia Colman and Rachael Weisz are both excellent as the Queen and Lady Anne as well. From the first scene on, as we travel through a snapshot of their relationship, you laugh and cry along with them. Throw in solid supporting work from Nicholas Hoult and his ridiculous wig, and the cast is top notch.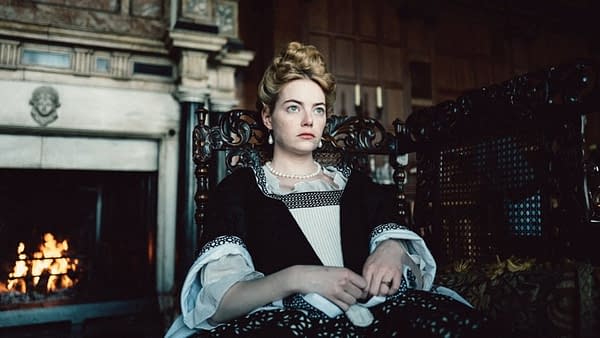 It is just a shame that it all feels like such a drag. Even at a smidge under two hours, this film feels under-edited. We want to spend as much time as possible with our three leads, and while it is understandable that we need to see events and politics happening at the time, we don't want to. None of these scenes have the same fire and intensity as the ones with our trio going at each other. How they could sit in an editing bay and not see that we don't need to see Hoult and his cronies throwing food at a naked man in slow-motion, but here we are.
One area were this film should clean up at awards shows this year will be in costume and set design. There is a scene where they are preparing the Queen for a horse ride and we get fantastic close-ups of her riding gear that show every stitch. Again, Hoult's wig needs to be seen, it is hilarious. Every room is decorated immaculately within an inch of its life, and the film looks gorgeous because of it.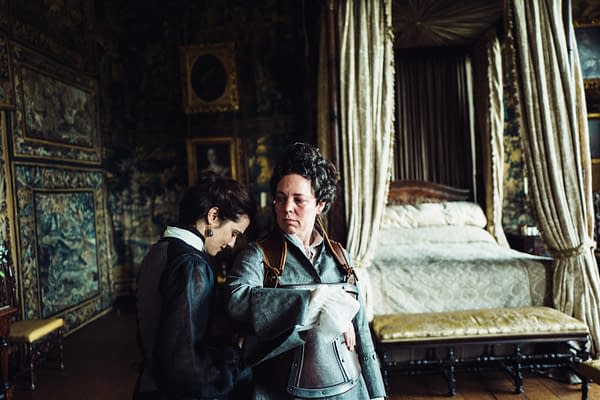 In the end, this is a film that is going to divide a lot of people. Many will feel that the humor and performances make this one of the best films of the year. However, great performances are only a part of the puzzle, and they cannot always help a director get out of their own way. For some of us, this is a shame. The Favourite sadly falls into the latter category.