Seriously… Spoilers
.
.
.
.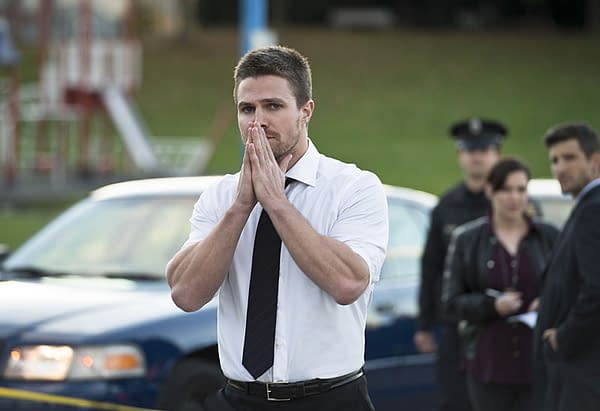 Okay.
Last night's mid-season finale of Arrow had a lot going for it. There was tension, surprise moments, lots of fights and of course a cliffhanger ending. But I'm going to take a look at the six important moments and then deal with that cliffhanger.
1 – We start with the opening, Oliver has a bunch of volunteers down helping clean up Starling Bay when a drone flies in and starts shooting. Team Arrow launches into action and gets everyone down while Felicity hacks and shuts down the drone. Being a comic writer myself, I'm not stranger to suspending disbelief… but that was an awful lot of bullets coming out of a single drone. And is it really that easy to hack into one of their systems? But its a nice dramatic moment to show that Damien Darhk can push back.
2) The decision to out Darhk is an interesting one. Oliver made the decision with his team… something the character would never have done in the past. He would have brooded over it and then found a way to try and put only himself in danger… which wouldn't work. So the fact he made the decision with them shows growth for the character.
3) The holiday party was a place for reveals. We meet Curtis Holt's husband, Felicity learns that Donna Smoak is dating Quentin Lance and she confronts Oliver about the engagement ring that he for some reason left in the Christmas Lights. But of course the big thing here is Damien openly attacking and taking Felicity, John Diggle and Thea Queen. I get taking Felicity and Thea… one is obviously his girlfriend and the other is his sister… but to the outside world Diggle is his bodyguard. Why would Darhk take him?
4) The Flash was right during the crossover, Malcolm only knows how to enter a room dramatically. So last time we saw him he was scoping up the remains of Vandal Savage… now he is the concerned father once more. And where having him dressed as Green Arrow makes sense for Oliver's identity, the excuse that he didn't want the League pitted against HIVE is odd. I thought the previous Ra's al Ghul wanted to stop Darhk. Doesn't that mean the League and HIVE are already adversarial?
5) Showdown between Green Arrow and Darhk includes two explosive arrows. The first one was a nice trick harkening back to the first time the two fought… except this is Merlyn not Oliver so how did he know to fire an explosive arrow? Oliver must have told him, but still… it was cool seeing the two of them work together to fight the bad guy. And a shorter timer might have taken Darhk off the map already.
6) And the nice WTF moment… corn? Why are they growing corn inside a buliding? I get it ties into the algae they were cultivating in Starling Bay… but am I going to need a science lesson to understand the villains motivations this season? Usually it's revenge or a desire to wipe out a city… but so far it looks like they're doing it to make pop corn.
And now… the cliffhanger. That's right, Damien Darhk has a family and like Christmas! Oh… and it looks like Felicity is badly injured and will probably die. But seriously, Darhk has a kid?
So the final moments Oliver and Felicity are in a limo going somewhere and are shot up. Felicity looks to be in bad shape and the trailer for when the show returns shows someone being rushed into the emergency room… and Oliver by a grave. Which all leads me to believe that she is going to be just fine. First thing I don't think Marc Guggenheim and Wendy Mericle want a large group of Olicity shippers on their front lawns with pitchforks and torches. And where were Oliver and Felicity going? If they're doing a tree lighting ceremony, shouldn't they stay and talk with some of the people there? It almost felt staged. And there is so much insinuating that she is dead that I can't see them doing it that way. But that's just my opinion.
Arrow will return on Wedesday January 20th at 8 PM on the CW.
[youtube]https://youtu.be/et9DKjt5v8Y[/youtube]
Enjoyed this article? Share it!