It seems like a lot of people forgot the Venom movie with Tom Hardy from Sony is happening, but they're finally ready to show the world some footage.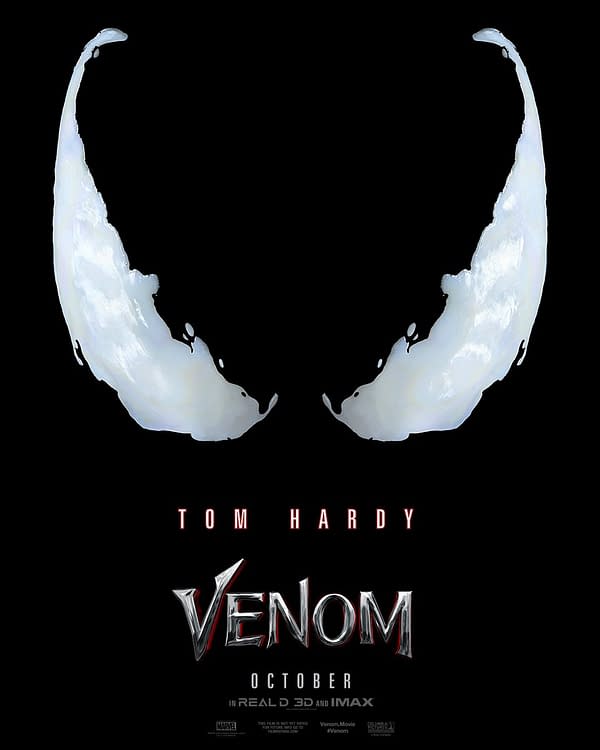 This poster was released today, along with the mention of a trailer drop tomorrow on the Regal Cinemas Twitter account. Yes, we think it's a weird place for an official announcement, too, but if Fandango can get exclusive stuff for a film, why not Regal?
We'll let you know as soon as the trailer hits tomorrow.
And now the official Venom movie Twitter account has posted about it, too.
Tomorrow. #Venom pic.twitter.com/Rvh80gmhyI

— Venom (@VenomMovie) February 7, 2018
There have been some pretty great photos and videos released from the set (officially released, even) that sure make it seem like Hardy is the most excited person for this film. Not that we're shocked by this — he is a pretty big nerd who embraces the fandom aspect of the roles he's played.
If you haven't seen this vid of him reading Bane's lines from The Dark Knight Rises TO HIS DOG — it's hilarious and adorable:
Tom Hardy quoting Bane lines to his dog with a nut cup over his face is, without question, the best video I've ever seen pic.twitter.com/OM5eFdtrl6

— KoyANDYsqatsi (@Andyzach) February 5, 2018
Ruben Fleischer is directing the film, which will reportedly follow the "Planet of the Symbiotes" storyline for the title character, and will NOT contain Spider-Man. As far as we know. Supposedly.
Venom is set to hit theaters on October 5th, 2018.
Enjoyed this article? Share it!