Tom Hiddleston's Favorite MCU Moment, Also He Does a Brilliant Korg Impression
Who knew Tom Hiddleston's favorite Marvel Cinematic Universe moment (that didn't include himself) was THAT one? Spoiler- Sebastian Stan totally knew.
In a recent sit down visit with BBC Radio 1, three Marvel film stars stopped by to discuss several things, including but not limited to Hiddleston's favorite MCU film, and the genius of Taika Watiti.
Letitia Wright, Princess Shuri from Black Panther, sits between Hiddleston and Stan, God of Mischief and the Winter Solider, respectively. At some points during the chat, she looks like she's not-so-secretly thinking "These boys, wth".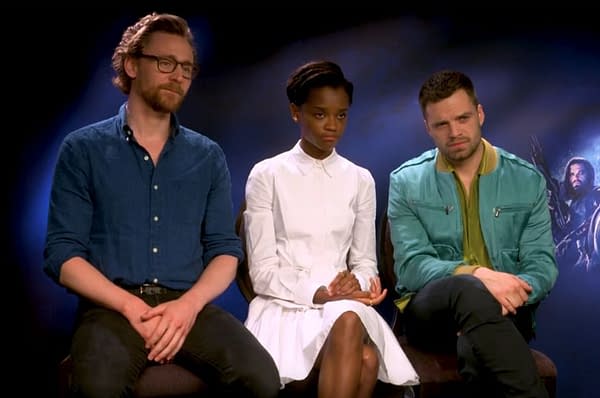 Tom is asked about his favorite MCU film up to this point, and he surprisingly without hesitation says Captain America: Winter Soldier. He goes on to say that he sees most of the films opening weekend, in pretty good theaters. He gushes a little bit about Stan's performance in the highway scene, and it's great.
The interviewer asks Letitia what moments have stood out for her, and she says Thor: Ragnarok. She and Hiddles share a fist bump. "Ba-BAM," Letitia exclaims.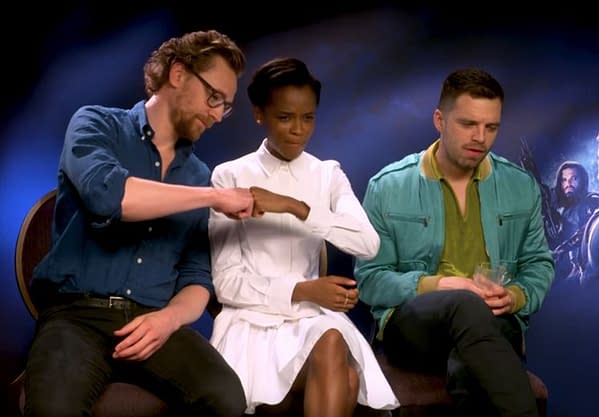 "I loved the vibrancy of it, it just flipped everything on it's head," she says. "And Taika, once meeting Taika, his personality just sort of splashed across the screen."
"Yeah, the rock character-" Stan says before Hiddleston interrupts him to say "Korg," and launches into his impression of the Kronan. Not gonna lie, it's pretty damn spot on.
Here's the interview segment here:
You can see Tom, Letitia, and Sebastian in the 19th MCU film Avengers: Infinity War in theaters now.